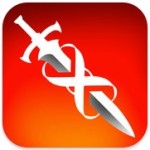 It's hard to believe that it's been more than a year since Epic Games and Chair Entertainment released Infinity Blade [99¢], an Unreal Engine-powered sword battling RPG that redefined what we could expect from visuals on the iOS platform. They released the sequel, Infinity Blade II [$6.99], this past November, and basically improved upon everything in the first game. However, the original Infinity Blade is still really great, and I still find myself playing both titles regularly.
If you're one of those people who haven't dived into the whole Infinity Blade thing yet, now would be a good time to check out the series yourself without much risk, as the first game is on sale for its lowest price ever at just 99¢. Even if you don't think the Infinity Blade style of game is for you, you at least owe it to yourself to drop a buck on it and find out for sure. I really didn't think much of the game when it first came out, if truth be told, but I continued playing and somewhere along the line something just "clicked" and I found it almost impossible to put the game down ever since.
You can read our full review of the first Infinity Blade if you need some more insight, and if you like it and want some more, you can check out our review of Infinity Blade II as well. This sale is advertised as an April Fool's sale, so be sure to grab it quick as there's no telling how long it will last.