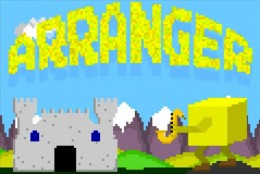 I'm always on the lookout for the quirky, offbeat kinds of titles that seem to only be possible in a place like the App Store. When I caught wind of the trailer for the upcoming game Arranger from composer and new developer Arman Bohn, my quirkiness meter shot into the red.
Arranger is an adventure RPG in spirit, but without most of the usual tropes of the genre. Rather than rely on tired classes like mages, rogues, or warriors, you play as a musical arranger embarking on a journey to search out new instruments for your collection.
As it so happens, these instruments are also "instrumental" (yeah, I went there) in helping the good people who inhabit Musica, the game's world. In this particular adventure, you're not saving the world with a sword, you're saving it with a saxophone. I like where this is going.
Arranger is described as one part Legend of Zelda, one part Warioware, and one part old school Sierra adventure game. Combat takes a back seat to 25 different mini-games as you collect a total of 16 instruments across 9 different regions.
It certainly sounds intriguing, and I'm digging the ultra retro-inspired look and general wacky nature in the trailer for Arranger. Not to mention the tunes are awesome. I'll be curious to see how it all comes together when Arranger launches sometime this summer.