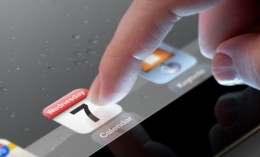 The new iPad and its gorgeous high-definition display has been in our lives for over a week. Game developers have had one for the same stretch of time. Undoubtedly, you're into new iPad, but what about the guys who make the media you consume on it?
Over the last few days, we've been asking a smattering of the highest profile iOS developers out there what they think of the new device now that they've had the time to use the thing. We've also been inquiring about commitment: will these major players support the Retina screen in updates and future releases?
Below is a list of who we've been talking to so far and their responses. As you'd suspect, everyone is still excited about the possibilities of the new iPad's beefier hardware. Also, many updates are on the way.
Halfbrick chief marketing officer, Phil Larsen:
"We've had the new iPad and it goes without saying that it rocks. This screen is astonishing and we already have our guys hard at work making sure our current titles are up to speed. Imminent Jetpack Joyride and Fruit Ninja updates will definitely address this. We'll also be optimizing all of our new games from launch, and with the higher download limits we'll be getting a bit more funky and adding some extra visual splendor. Barry Steakfries will be looking his best!"
We can't wait to see Om Nom in high resolution.
ZeptoLabs co-Founder and creative director, Semyon Voinov
"New iPad is a great device and we will of course make sure that our current and upcoming games will support it — because their look will benefit from the new high-res screen. There are some challenges from the development side like the increase of the app size and a wider fragmentation of the platform, but those are all manageable."
Semi-Secret co-Founder Eric Johnson
"The screen on the new iPad is amazing. I use the iPad regularly for reading, and have already taken for granted the clarity of text rendered on the new display. I can't wait to update our games with updated artwork to take full advantage of the retina display."
Robot Entertainment lead designer Marcin Szymanski
"Everyone in the office just got the new iPad, and we're very excited about it. It feels like it will be a transformative experience for many kinds of games, where players will forget that they're looking at a computer display, but instead feel like they're looking at a real scene. Robot won't be immediately developing Hero Academy to the new specs since most of our iPad work was completed before the announcement, but it's certainly something we'd consider for future development."
Imangi designer Keith Shepherd
"We love it!  The screen is beautiful, and it's wicked fast. We're already working on an iPad Retina optimized version of Temple Run and it looks incredible. The graphics horsepower is fantastic as well. We have Temple Run optimized and running on the new iPad at retina resolution using MSAA and high resolution textures all at 60fps without any hiccups.  Everything is so crisp and sharp that you don't even notice the screen, it's like a window into another world –perfect for games and immersive experiences such as Temple Run."
---
So, retina updates for Cut the Rope, Temple Run, Fruit Ninja, Jetpack Joyride, and possibly Hero Academy iPad are all coming? Our hearts are about to burst with joy. We'll keep asking devs what they think, by the way, but it sure feels like everyone just adores the new iPad and can't wait to do something new with it.