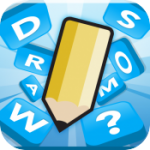 Alright, I'll come clean. When I saw OMGPOP's Draw Something [99¢ / Free] glued to the #1 positions on both the free and paid charts I assumed it was yet another flavor of the week flash in the pan freemium game. Then I tried it, and wow is this game good. I'm not quite sure how they did it, but Draw Something is a perfect witch's brew of Facebook integration, word scrambling, and asynchronous two-player Pictionary.
It works a little something like this- You start a game with someone (I've found games with people you actually know via Facebook seem to be the most fun.) and are given the choice of three words of varying difficulty. You choose one, do your best to draw it, and hit submit. Your friend gets a push alert, sees your drawing, and is given a array of scrambled letters to spell the word with. If they guess correctly you're awarded between one and three coins, they take their turn, and the process repeats.
The free to play mechanic is actually sort of neat, as you can play the free version for eternity with ads and a limited set of colors to draw with. Alternatively, you can spring for the 99¢ ad-free version. The coins you earn are used to either buy bombs which nuke some of the letter tiles which don't go to the word you're supposed to guess or buy more colors to paint with. Sure, you can just do your drawings in the few colors that everyone gets, but to really tweak out your illustrations you need at least a few more paint sets.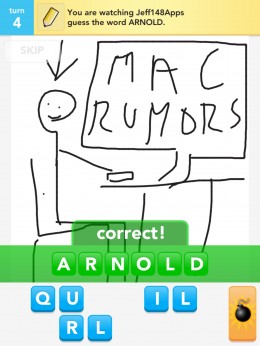 The rub of the coin system is that actually earning enough coins by playing to buy bombs and unlock paint sets takes forever, which means you basically have to buy them unless you're way more patient than I am. But, at the end of the day, I'm having a really hard time getting that worked up over the IAP as the game is worth every penny worth of the $4.99 bucket of coins I bought to unlock a bunch of paint (and the 99¢ I dropped to get the ad-free version).
Recently, the game was updated with additional words, and complete support for the Retina Display of the new iPad. In fact, my original intention of this post was just a quick news article on that fact, but I just can't help but gush all over this game. Everyone I know is playing it, and recently taking my turns in Draw Something is both among the last things I do before I go to bed and the first things I do when I wake up every day.
So, I'm tagging this as a review, giving Draw Something five stars, and telling you again: Download this game.