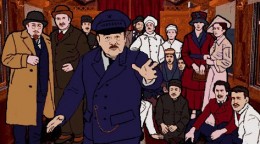 Jordan Mechner and Smoking Car Productions' adventure game, The Last Express, has been slated for an iPad and iPhone release. Mechner just announced the port over on his blog, and carefully avoiding the kind of details we want to know, like, say, what new features it will support. He did, however, reveal that the folks over at DotEmu are behind the port. DotEmu recently handled the iOS version of Another World [$4.99], and did a masterful job.
The Last Express Facebook page appears to be the place to look for new drips of information at this point in the marketing cycle. It's sporting a few nifty pieces of art, as well as some production-phase images, all of which may or may not be from the original version of the game. We're investigating.
We'll definitely be keeping our eyes on this, so stay aboard. We're like a train. With seats that you, the reader, can sit in. This joke totally made sense at one point.