Last fall we took a look at Ravenmark: Scourge of Estellion [$4.99 / Lite], and it absolutely knocked our socks off. If you're into strategy RPGs and have been holding off for any reason, now is the perfect time to jump in. A huge content update just hit that nearly doubles the length of the game, and it brings a few user-friendly features along with it.
The defining feature of Ravenmark may well be its carefully crafted world and the compelling characters that inhabit it. It's a game you can sink your teeth into, and the characters are worth caring about. The Suneater Campaign, new in this update, brings in a whole new cast and more lore to digest. It turns the story of Ravenmark on its head and brings the perspective around to the nation of Kaysan, formerly the villains of the piece. Rather than defending the lands of Estellion, the new campaign sees players striking out to take their land back from the Empire of the Raven.
The update adds eleven new chapters, bringing the expected length up to somewhere near the 20 hour mark, no small feat. It also mixes up the gameplay, as the swarming Kaysan must use different tactics than the organized armies of Estellion.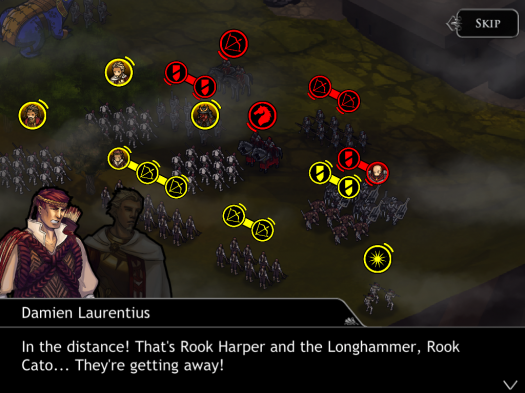 There are several other big changes in this update, including iCloud support and a lower difficulty mode. The latter increases the health of player-controlled units, making it a little easier to stomp all over the enemy. There are also new challenges to complete in each chapter for players looking for more difficulty instead of less.
Witching Hour Studios has mentioned two crash bugs that slipped into the Suneaters update. If you get either of them, simply load the chapter you're trying to access from the Campaigns menu. The studio has already submitted a fix, so you'll be able to get your epic strategy RPG on without a hitch in no time.