Last week at GDC Sega held a gathering of the press to showcase some of their new upcoming titles with demos and hands-on time. As is usually the case, their iconic blue mascot kind of stole the show with Sonic 4: Episode II, but there were several other strong titles that are heading to the App Store which are also worth keeping an eye out for.
---
Sonic 4 Episode II – The latest adventure for the blue blur will include his longtime buddy Tails, and the duo can team up to perform special moves together like a somersault spin to blast through terrain or a helicopter move where Tails can give Sonic a lift to otherwise impossible to reach locations. Levels are designed around heavy use of these moves and also include multiple pathways and hidden areas.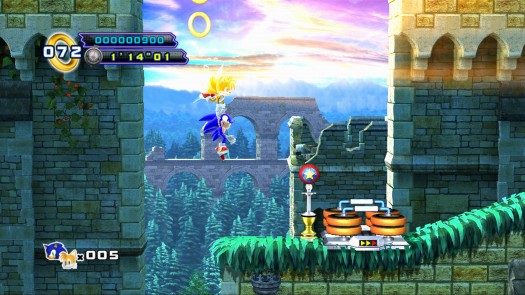 As Sega has stated before, the physics and "feel" of this latest Sonic title have been tweaked according to feedback to Episode 1, and they've done a good job of making it feel very much like a classic Sonic game. Also, the visuals in Episode II are absolutely fantastic and should look incredibly close to the big boy console versions of the game.
---
Virtua Tennis Challenge – Let me get this out of the way first: Sega has not officially announced this mobile version of their flagship tennis game for iOS just yet, but if I was a betting man I'd put it all on this game reaching the App Store at some point in the future. The resolution of these screens fits with iOS, and the media kit they came in is labeled iOS screens. So yeah, probably coming to iOS. For now though, it's an Android exclusive, but I still made sure to give it a try and I really liked what I saw.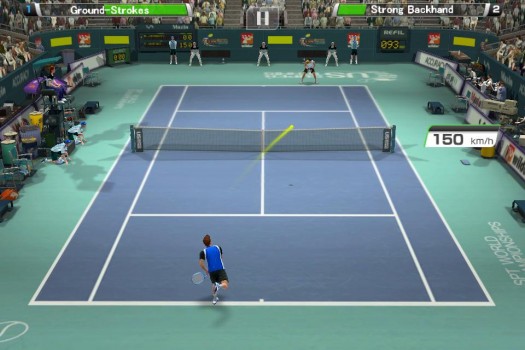 The game is tuned to the physical controls of the Xperia Play handset, but there are also fully touchscreen enabled controls for other Android handsets without buttons (and hopefully, iOS eventually too). The touch controls worked unbelievably well, letting me run all over the court as need be and perform the standard array of tennis shots. It's a fun, arcadey game of virtual tennis, and I'm keeping my fingers crossed that iOS gamers will get a taste of it someday too.
---
Total War Battles: Shogun – This is a mobile-centric real-time strategy title set in the world of Total War Shogun 2. It takes place on a hexagonal battlefield, and in true Shogun fashion, you aren't allowed to move backwards from where you came, only forge ahead into battle.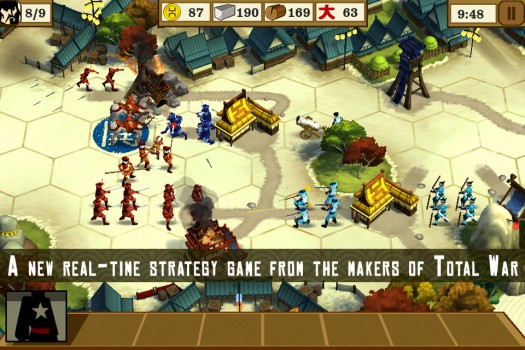 The controls have been designed from the ground up for the touchscreen and are both simple and intuitive to understand. Aside from a lengthy single player experience, Total War Battles also features a sweet same device multiplayer mode where both players can add units to the screen and try to be the first to take out the other's leader. This mode even works on the smaller screen of the iPhone, and although the elements are kind of tiny, it totally works and is a lot of fun.
---
Alexandria Bloodshow – This is a sequel to the well-received Samurai Bloodshow that Sega finally released in the US last year, and features more of everything that made the first title so much fun. In case you didn't know, Samurai Bloodshow is a card-based strategy defense game that takes place in feudal Japan. Alexandria Bloodshow is along those same lines and gives you control over two factions, the ancient Egyptians or Greeks.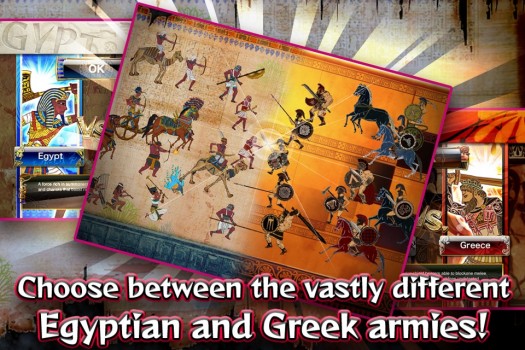 There are a whole bunch more unit cards in Alexandria Bloodshow compared to the original, which itself had a pretty crazy selection of cards. Gameplay follows an almost identical formula to the first game where you'll slowly amass a collection of increasingly better unit cards and compile them into decks to take into battle with you. If you enjoyed Samurai Bloodshow, it looks like all the elements are in place for Alexandria Bloodshow to be an even better sequel.