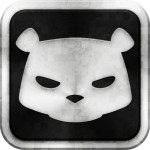 A portion of the wacky crew from Battle Bears developer SkyVu is here at GDC this week talking about some of their upcoming projects. First off is a couple of upcoming updates for the online multiplayer class-based 3rd-person shooter Battle Bears Royale [Free]. A version 1.3 update should be hitting within the next month and adds a brand new player class, a capture the flag/bomb the base style new mode, and improved controls that feature a floating joystick and a dedicated fire button.
After that, the 1.4 update will bring a new friend system so it will be possible to keep a list of buddies to jump into matches with. There will also be another new class, and the game will be launching on Android at that time and you'll be able to play cross-platform between Android and iOS. Also, since its release last November, Battle Bears Royale has been greatly improved in terms of balances and tweaks, and no longer requires you to create a profile to be able to play. If you want, you can just jump in as a guest and start fragging away.
---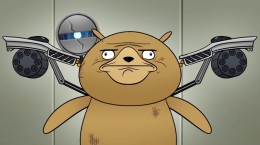 The next bit of news from the SkyVu camp is a brand new Battle Bears title called Battle Bears Zero: Wil's Finest Hour. If you've been following along with the series, you'll remember that Battle Bears -1 [99¢/Lite] was a prequel to the original title Battle Bears: Zombies! [99¢/Lite]. Wil's Finest Hour follows the bumbling protagonist Wil's antics after being left behind on the Battle Bears' mothership at the end of BB -1 while Oliver and Riggs are taking care of business in BB: Zombies!
This is explained in the new teaser featuring Wil's obnoxious but lovable narration:
Wil's Finest Hour is somewhat of a hybrid between the fixed turret style shooter that is BB: Zombies! and the 3rd-person shooter BB -1 that offers a full range of movement. It's an on-rails shooter that guides you from point-to-point through the game, and SkyVu is aiming to have the gameplay trend more towards the casual side of the spectrum. Also, one of the best part about all of the Battle Bears games – the crazy animated cutscenes – will be prominent in Wil's Finest Hour, featuring over 30 minutes of them throughout the course of the game.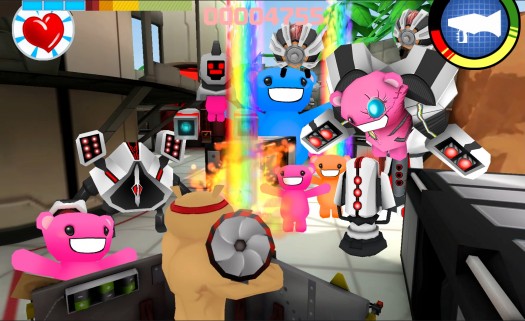 There are actually more awesome things happening with SkyVu and the Battle Bears franchise, but they are too super secret to divulge just yet. Rest assured, there is plenty more Battle Bears related things happening in the future, so if you're a big fan of the series like me then you'll have plenty to be excited about in addition to the brand new Wil's Finest Hour hitting later this year.