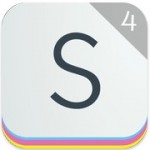 I'm going to let you in on a little secret: we're pretty big fans of SpellTower [$1.99], the clever iOS word game from Zach Gage. Actually, that's not really a secret at all now that I think about it. We gave SpellTower a full 5 stars in our review when the game launched in November, and an update the following month added Universal support and Game Center achievements, making an already great thing even greater. In fact, we thought so much of SpellTower that we included it in our Game of the Year picks for 2011.
So yeah, it's no secret that SpellTower is pretty good and stuff. About the only thing the game is missing is some sort of multiplayer mode, but over the weekend Zach Gage posted a quick teaser video showing just that: a local competitive multiplayer mode. Matching words will send letter blocks over to your competitor's screen, and the grey shading in the backgrounds shows where the other person's current tile stack is at.
This particular multiplayer mode works over Bluetooth and can be played on any combination of iPhone, iPod touch, or iPad devices. Meaning, iPad players can get down with iPhone or iPod touch players. Zach also teases that this is just one aspect of the planned forthcoming update, and that there are other non-multiplayer new modes in the works too. When talking about new game modes, Zach cheerily states "Expect a few choices when the update hits." There's no solid release date for the SpellTower update just yet, but we'll be sure to let you know when it hits.