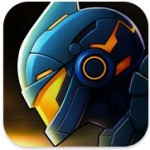 Star Warfare: Alien Invasion [99¢] is a first-person arena-shooter from Freyr Games, which features wave after wave of relentless attacking alien creatures. The aliens emerge from holes in the wall and from underground, or come flying, bounding or waddling straight towards you from all sides. And once you've shot them, the next wave arrives immediately. It's almost as if you don't even need to explore, as the aliens will come straight for you.
The single player campaign includes five maps, each with six levels of increasing difficulty to unlock (30 levels in total). A progress bar indicates how many of the enemies have spawned and if you survive to the end, your reward is currency to spend in an in-game store. The sixth level of each map is a "survival" level.
In multiplayer mode, you can team with up to three players online (via Game Center) to engage in a co-op boss battle, or to play co-op on a map you've already unlocked. The incentive for fighting bosses is that you earn greater amounts of gold. Unfortunately, these bosses are not accessible in single player mode, although you can set-up a 1 player room online if you want. Playing co-op with teammates makes the boss battles easier, and so does upgrading via single player mode first since the gear you earn in single player mode is also available in multiplayer.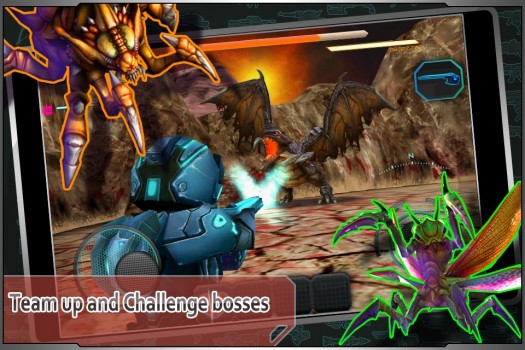 This is a dual stick shooter, with the left stick for movement, the right for aiming and shooting – and there's no option to change this, although you can tweak sensitivity. The dual sticks are located one third of the way up the screen on each side and can't be repositioned. To look around, or turn around, you swipe the background with your finger. You can also use the right (fire) stick to turn, but that's slower and wastes bullets.
There are 26 weapons to unlock and purchase, including assault rifle, shotgun, laser gun and machine guns. The heavier weapons, like grenade launchers, decrease your speed while other powerful weapons like the RPG consume more energy. Each weapon has power, fire-rate and energy attributes and can be upgraded through 8 levels.
The catch is that some items are purchased with money earned in-game, but other weapons and bags (including the cooler ones) are purchased using a raw material named "mytheril" which seems to only be available through in-app purchases or for getting bonuses for playing online regularly. But aside from this premium currency, even the weapons sold for regular in-game currency get very expensive, making the weapon upgrading more difficult than it feels like it should be.
Also, If you run out of bullets, you end up running around the level unable to do anything as there's currently no melee attack or ammo pick-ups. You just have to die or quit, having wasted the remainder of your bullets, which is frustrating, although the developers advise they may possibly introduce a weapon with no ammo cost. The in-game store also sells space suit parts (helmet, chest, hands and legs) which can improve your hit points, power and speed. Other available items include first aid items, forcefields and the ability to revive after death.
Star Warfare: Alien Invasion is a pretty good first-person shooter for a dollar, despite the expensive weapons, emphasis on IAP and need to buy bullets with in-game money. The developers are planning a minor update with new equipment and maps, and a major update with a brand new game mode. If they can also balance out the in-game currency systems in regards to weapon upgrading and ammunition usage, then Star Warfare might be able to extend beyond just being an average to above average shooter.