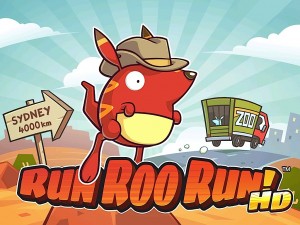 Scribblenauts [$.99] developer 5th Cell isn't one-and-done with iPhone and iPad. This Thursday, actually, will see the release of its second game, a "micro-platformer" called Run Roo Run. It looks remarkably 5th Cell, and according to exclusive details given to Joystiq, it certainly sounds like a game we'll definitely be getting into.
In a nutshell, Run Roo Run is an extremely cutesy and heavily instance-based runner — think, Canabalt [$.99] but with levels and a kangaroo. The experience is sliced and diced into a series of 420 individual levels that are, also, divided cleanly into chapters that all introduce new obstacles or other new elements, like, items. Each week 5th Cell plans to push 10 more additional levels to the game without the need to update.
One really interesting thing that popped up during the Joystiq interview about Run Roo Run was the subject of its inspiration. The initial idea came from Space is Key, an insanely awesome flash game that you've got to play right now.
[Via Joystiq]