Dragon Shout [Free] has cleared the certification hurdle and it's available now at the low, low price of $0. What it does, it does well, and it proves a point. Games as deep as Skyrim should be embracing mobile companion apps across the board. Dragon Shout is an app that not only makes Skyrim better, but down the road, it might add an entirely new layer to the experience: social.
We wondered before why Bethesda or a member of its family didn't produce a Skyrim map app like this from the get-go. Later, we discovered that Prima has a one on the way. We're unsure of what it'll contain,  so we'll hold off on speculation. But this is a good sign … and also kind of a bad one since Dragon Shout isn't official and all.
Who cares if Bethesda made Dragon Shout or not? Hopefully, Bethesda won't. One of the more soul-sucking things we've considered while evaluating Dragon Shout is if Bethesda will act and get it pulled from the App Store. We'd rather see apps blessed by the people who okayed a game's creation to avoid future heartbreak.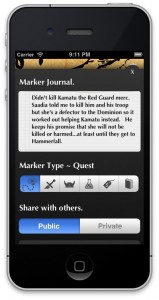 We asked the creator about this. He doesn't know how Bethesda feels about the product because it hasn't responded to his attempts to reach out. "I did my best to avoid any conflicts," he adds, though. "I had a map custom made. I looked up US trademarks for the city names and Dragon Shout, and didn't find anything by Bethesda."
"Here's hoping they don't issue a C&D."
That stuff aside, as we previously covered, Dragon Shout is an ambitious map app for use with Skyrim. It provides the game's map in glorious detail, and then gives you the tools to mark and annotate anything you want, anywhere you want. See a cool dungeon on your way to an important mission? Mark it with a touch on Dragon Shout, provide detail if you want, and continue on to your more pressing matters without fear of forgetting about it.
One of the coolest things about Dragon Shout is that it's free-form. It gives you a gaggle of markers to choose from and the ability to place them wherever. If you're hiding 100 pounds of dragon bones somewhere or just like the look of a certain waterfall in the middle of nowhere, you can mark it for safe-keeping on Dragon Shout. You can also sort the map by markers if it starts getting too cluttered.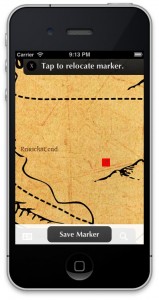 If you grab the app, you'll notice a lot of different hooks; in the future, Dragon Shout will allow for in-app chat, parties, and community marker sharing via an IAP.
As a companion piece, we have a feeling Dragon Shout will be at its most useful to a new player just starting out on his or her grand Skyrim adventure. It makes the world much more manageable. For current players with big saves, there are still uses, as we all have to leave somewhere or something behind from time-to-time.
And that's not to mention the gaps it covers. Dragon Shout does everything that you wish Skyrim's map did — marking, annotating, and eventually sharing — and puts all of that into the palm of your hand. It's a powerful tool that fleshes out the exploration experience, and it's great because of that.
UPDATE: Apparently Prima has an app on the way. We've adjusted the story to reflect this.