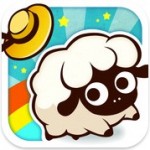 Once upon a time, there was a little game called Slice It! [$0.99]. It was a charming puzzle game published by Com2Us and it did quite well on the App Store, both critically and financially. Now the team behind Slice It! has moved on, creating their own little studio at Orca Inc. I'm just glad they're still making games somewhere; if Little Lambs [$0.99], the studio's first independent release, is any indication, they haven't lost their touch.
The first thing you'll notice about Little Lambs is that it's utterly adorable. I'm exhausted by barnyard titles, another poultry protagonist and I might just croak. But the storybook style of Little Lambs slipped right past my defenses. It's pastoral, not porcine. But looks aren't everything — and thankfully, Little Lambs has brains, too.
Its puzzles are deceptively simple. You're presented with a pen filled with sheep. You can swipe in the four primary directions to move all the moveable sheep that way, ostensibly with the help of an off-screen herd dog. You swipe, they huddle along until they hit a wall. Lump all the sheep of one color together to clear them away.
So it would seem that this game is straightforward, but instead it rolls out a Sokoban-sort of vibe. You push boxes around, trapping or releasing sheep, you hit buttons, and every motion you make is carefully tracked. It's easy to play yourself into a corner on many levels, and even easier to wrack up moves like it's going out of style. And the kicker is that you can't just move one sheep. It's all or nothing, unless you can find a way to lock one down.
You're rated with stars. One star means you made it through — eventually. Two means you've done a good job, but could do it in fewer moves. Strangely, three doesn't mean you've done the best you can do. It just means you've done very well. "Perfect" is a rating above three stars, and it's the fewest moves you can complete a level with…unless you can pull off a "more than Perfect" result with fewer moves than the developers expected.
Just getting through some of the later levels is hard, never mind perfecting them. If you get stuck, you can take a hint or three at the cost of the coins you earn for clearing and perfecting levels. These aren't endless unless you want to buy them with IAP, though, and the hints won't give you every step of the puzzle. You're going to have to challenge yourself a bit. You can also pay the steep cost of five coins to outright skip a level.
There are over 90 levels to work your way through, and 21 Game Center achievements to collect along the way. The levels get downright mind-bending, which seems at odds with the delicate look of the game. But Little Lambs is a bit of a wolf in sheep's clothing, charming to look at, but with a lot of bite. It's not flawless — the puzzles do get to drag on some, and the repetitive audio doesn't help — but it's a solid puzzle game. I wouldn't expect any less from this team.