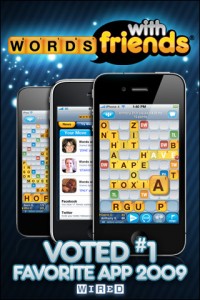 Surely you've heard of Words With Friends by now, haven't you? I figure, if my mom plays it, that's a pretty good benchmark for the entire world knowing about a video game. Well, if you haven't, here's the gist- Words With Friends is basically the game of Scrabble with a social cross-platform twist. Utilizing the magic of asynchronous multiplayer and push alerts, you can play games of Scrabble with friends across the world. Cooler yet, it doesn't matter if your friends have Android phones or are even playing the Facebook version of the game… It just works.
It's casual and simple enough that you could play with your grandma, while being classic enough that it's fun for even the most hardcore types who enjoy playing word games with their friends and family. Seriously, I can't say enough good things about Words With Friends.
I can say one bad thing though, in that the advertisements that power the free version can get a little obnoxious at times, especially if you have a hatred for interstitial ads… Which is exactly where today's sale comes in. For a limited time, you can get the ad-free version of Words With Friends for 99¢. I can almost promise you'll get more than 99¢ worth of entertainment out of this game, but, if you're a cautious App Store customer you can always try the free version first. All of your games will transfer over if and when you decide to spring for the paid version.