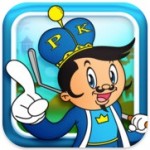 Putter King Adventure Golf [99¢] is released by Putter King, a company with real indoor miniature golf franchises, so these guys should know how to design a fun and challenging mini-putt experience. We were keen to see how their real-world ideas would translate onto our iOS devices. The good news is: They've done a pretty decent job of it.
This game sports four different modes: Championship mode is a regular single-player round of mini-golf. In Time trial mode, you're racing against the clock to sink the ball in the shortest possible time on any specific unlocked hole. Multi-player mode allows 2 to 4 local players to take turns on the same device (there's currently no online multiplayer). But before you play the other modes, you may want to invest some time on practice mode, to hone your skills. It would be nice if there was a career mode or tournament, to tie multiple games together, but there's currently not.
There are four cartoon avatars to choose between (2 male, 2 female), although this decision only affects which character appears on the screen. The avatars have no different attributes and don't really impact the game, so they're basically just a cosmetic preference. Although they are quite large and do obscure your view of the course, so since there's no option for "no avatar", it's probably a strategic advantage to pick the thinnest character.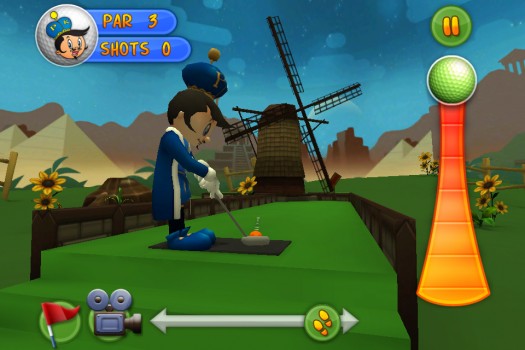 There are three different courses, with 23 uniquely themed holes to play in total. The courses include 'Adventure in Japan', 'Trip around the world' and 'Putty's playground', with the last course being initially locked.  Each hole in Putty's playground must be unlocked by completing a specific challenge, such as: Score two hole-in-one's in a row, or finish a championship below par.
The courses are all rendered in 3D and feature all the slopes, jumps, water traps, bridges, tunnels and obstacles you'd expect to see on a regular mini-putt course.  Some of the more elaborate obstacles include a sumo wrestler, a moving sushi conveyer belt and the mandatory windmill.  There's different surfaces, like fake grass, wood, stone and even an ice slope. They also mix things up occasionally by making you take shots in the dark or without any aiming lines. One level even asks you a multi-choice general knowledge question, which opens a short-cut if you answer correctly.
The physics are well implemented, providing the same frustration you'd feel in real life as your ball circles the hole without sinking, or narrowly misses the hole and rows back down the slope of Mt. Fuji (again). The main challenge is getting the speed of your swing right, as a gentle touch is required at times.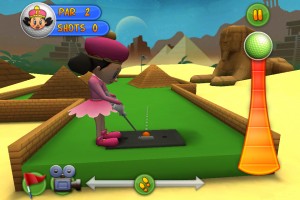 The controls work pretty well …mostly. A large horizontal slider along the bottom of the screen lets you choose which of the three starting points to tee off from (not sure why you can't just touch a starting tee).  To aim your shot, you drag your finger around the screen while little white dots indicate where you're aiming. When you're ready to hit the ball, you simply drag a large vertical slider down …and then push it upwards at the desired speed. Very occasionally, it wouldn't let me aim the ball in the direction I wanted, as it became a little confused in tight spaces, although it would always respond in the end.
In real mini-golf there's often a maximum 9-shot limit, to stop queues forming at holes. But here, you can take over forty shots. There's no option for throwing your clubs when you play badly, but you can hit the ball right off the green, into the "out-of-bounds" area, which every mini-putter needs to try at least once.
Once you eventually sink the ball, your result is displayed (eg: Bogey) and your overall scorecard appears. Unfortunately the scorecard doesn't include an in-progress total, so you can't immediately tell if you're above or below par overall. Openfeint leaderboards are provided for the three courses and for time trials on each hole, with just seven achievements.
The 3D course graphics and themed backgrounds are generally well presented, although your avatars feet and club often pass straight through the objects on the course. And some text labels exceed their background boxes, which looks untidy. Also, some objects become translucent when they block your view, however a couple of times my view was completely obscured in both camera perspectives, making aiming difficult, which is particularly frustrating if you're in the middle of a dream round (I wasn't).
Putter King Adventure Golf does a great job of capturing the spirit of miniature golf, bringing back memories of playing this as a child against my father. With the multiplayer mode, a family of four can now have mini-golf competitions at home, with the loser doing the dishes. The 3D holes are pretty creative, but if you want something different, the developers are currently running a design-a-hole competition, with the winning three user-designed holes to be added as a free update in future.