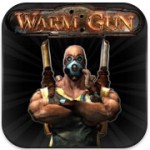 Remember WAAYYYYYY back, oh I don't know, like, 9 hours ago when we told you that the Unreal Engine powered first-person shooter Warm Gun was hitting the New Zealand App Store and slowly worming its way throughout the world? Well, those sentiments have just a bit more meaning now for those of us in the good ol' US of A as Warm Gun [$4.99] and its free spinoff Carnival of Bullets [Free] are now available in our little neck of the woods.
In fact, the release has hit a few bumps in the road, as a representative from the game's developer Emotional Robots has explained in our forums that an old version of Warm Gun was accidentally loaded up into iTunes Connect and for a good chunk of its international release customers had been unknowingly buying this incomplete early version. Emotional Robots took swift action and have replaced that pre-release build with the proper one, so things should be all good with downloading the correct game going forward. If you happen to be one of those who downloaded the improper version earlier, you might benefit from deleting the game entirely and re-downloading the new version which is up in the App Store right now.
In case you've missed it before, here's the trailer for Warm Gun followed by the trailer for the free Carnival of Bullets single player demo:
As we've said previously, we'll be hopping online in the next few days to dig into the multiplayer-centric gameplay of Warm Gun and will bring you a full review of our findings soon. The reaction to the game in our forums has been decidedly mixed. Some players are having a blast, with the game performing well technically and matches online being mostly lag free. A larger group of players are feeling the opposite of that. Many are complaining of performance issues on their devices, with laggy framerates plaguing both online and offline matches. These issues could be due to Emotional Robots having to make some pretty extensive last minute changes to the game right before release, and they have already committed to addressing all feedback and updating the game frequently to make sure it can be the best that it can be.
While the negative issues are troublesome, they also aren't completely unheard of when dealing with such a technically intensive game like Warm Gun. However, I feel confident in Emotional Robots' pledge to give the game plenty of tender lovin' in the coming weeks. If you find yourself intrigued by Warm Gun but aren't sure how your particular device will handle the load, your best bet is to check out the free Carnival of Bullets to gauge performance.