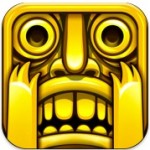 Imangi Studios has just announced that their latest release, Temple Run [App Store] — the endless runner that makes you feel like an archaeologist with a penchant for deadly situations — is free, for a limited time.
Temple Run scored 4.5 stars in our recent review and was among the titles in our Best iOS Games of August 2011 roundup. Imangi recently pushed out a v1.2 update that brings the following enhancements:
Two new characters

Scarlett Fox
Montana Smith

Two new powerups

Boost (when you pick it up you boost forward at super speed)
Head Start (when activated you boost forward 1000m at start of your run)

Three new achievements

Miser
Allergic to Gold
Head Start
With this updated, players can now earn free coins through offers in the in-game store, but Imangi would remind players that such in-app purchases are optional, and that coins can still be earned in-game.
The next Temple Run update, bringing more new characters and powerups as well as iCade support, is expected soon.