It seems like physics-based puzzlers are always popular with fans of iOS games, but the genre is undoubtedly saturated. Mikrotie's take on it is prettier than most — in fact, graphics are likely to be the first thing to suck you into Treemaker [$0.99], which has a modern, atmospheric look to it that certainly is easy on the eyes. I admit that I am totally a sucker for extremely pretty games, so I was interested to see if Treemaker could offer great gameplay to accompany its uncommonly good looks.
Some iOS games like to supply a story, but Treemaker doesn't bother, and it's just as well. You play a silent, smiling character who uses frondlike arms to swing from platform to platform in each level, collecting orbs,setting smaller creatures free as you go and planting trees in the process. The levels are very short ( I admit I would have enjoyed it if they were longer), and each gives you the opportunity to score one, two or three stars, depending on how you play the level. You have an unlimited number of connections at your disposal when it comes to casting your branchy arms about, but only certain connections that allow you to score three stars in each level, so there is replay value in figuring out the best way to play each level.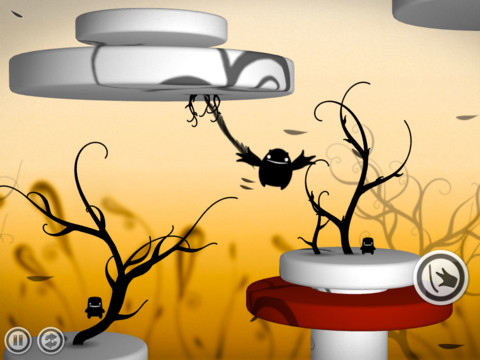 Touch controls are very responsive, but getting the swing of things (yeah, I went there) takes some practice if you don't have a lot of experience with physics-based titles. The movement is pitch perfect, and after you learn to control the treemaker, you'll be swinging him all over the place to land on the platforms you want. You can also pinch the screen to zoom in or out, which makes it easier for you to plan your next move rather than go sailing of finto the abyss.
While Treemaker is a lot of fun to play and really lovely to look at, I have to admit that I was disappointed with the lack of variety when it came to the appearance of the levels. The level design is great as far as gameplay goes, but the look of the levels only changes by way of color, and there are only a total of four platforms in the game to land on. Some new elements are introduced as you progress, such as exploding blocks and spring blocks, but the game feels like it could have benefitted from a wider variety of things to do.
The other letdown in Treemaker is that it has absolutely no online compatibility, so you can't share your scores with friends with GameCenter or any other similar service. Considering the scoring aspect, I think this would have made it more fun. The game itself has a great vibe, and I enjoyed my time with it, but it feels like the ball was dropped when it came to the social elements that people seem to enjoy in iOS titles. Achievements would have been great oto and given the game more of a replay value. In other words, what's there is great, but if you play these types of games often, you can't help but see the missed opportunities that feel as if they should have been fleshed out.