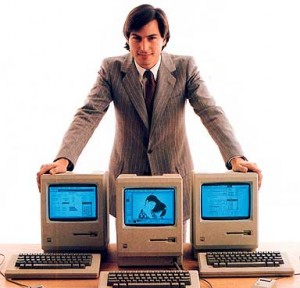 News is just coming out of Cupertino that Steve Jobs has resigned as Apple's CEO per a letter to Apple's board of directors. Steve requests to stay with the company as a chairman and appoints Tim Cook as his successor. The request still needs to be approved by the board, which is all but guaranteed.
Steve's letter is short and to the point:
To the Apple Board of Directors and the Apple Community:

I have always said if there ever came a day when I could no longer meet my duties and expectations as Apple's CEO, I would be the first to let you know. Unfortunately, that day has come.

I hereby resign as CEO of Apple. I would like to serve, if the Board sees fit, as Chairman of the Board, director and Apple employee.

As far as my successor goes, I strongly recommend that we execute our succession plan and name Tim Cook as CEO of Apple.

I believe Apple's brightest and most innovative days are ahead of it. And I look forward to watching and contributing to its success in a new role.

I have made some of the best friends of my life at Apple, and I thank you all for the many years of being able to work alongside you.

Steve
After-hours trading of Apple stock has resulted in a 5% drop, and it's not unreasonable to think that the stock may continue to slide tomorrow as investors react to the news. It seems easy to assume that Steve's departure as CEO is a direct result of his health as he has battled cancer since 2009, and we wish him the best.
On the bright side, Tim Cook is more than capable to serve as CEO, although he lacks the obvious star-power that Steve Jobs had. Also, as a chairman, Jobs can still have an influence over the products and direction of the company while being freed of the day to day responsibilities of CEO. Something else to keep in mind is that Cook has more or less been at the helm of Apple since 2009, and on and off since 2004 as Steve has fought cancer. Once all the reactionary dust settles, this should be a very smooth transition.
Update: According to the Wall Street Journal, as expected, Steve Jobs will remain active in the company:
People familiar with the situation have said that Mr. Jobs continues to be active at Apple and is closely involved in the company's product strategy. Apple watchers don't expect that to change even after Mr. Cook takes over.