Well now here's something you don't see every day, especially from a company like EA, and especially from a series that among other bragging rights includes the best selling PC game of all time…! The Sims 3 World Adventures [Free] is free today, as part of a particularly confusing promotion as historically speaking Sims games have had absolutely no problem selling like crazy on the App Store. World Adventures is sort of the odd man out of the bunch on the App Store, as instead of focusing on typical Sims-like activities of decking out your house and simulating the various mundane tasks which you yourself do every day, it sends you off to several exotic locales to complete various goals.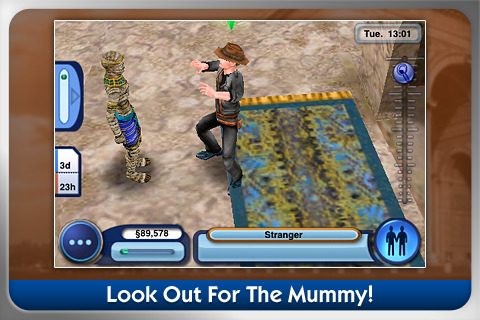 The cool thing with this one is that if you've got a sim in The Sims 3 [99¢] you'll be able to import and export them to go on your world adventure. The Sims 3 World Adventures didn't have that great of a critical reception when it first launched, but how much can you really complain about a free Sims game?
As an aside, it will be interesting to see what this kind of freebie promotion means for EA on the App Store. As evident by Christmas of last year, they can basically take over the top paid charts at will… And it seems they have the same sway over the free charts as well.