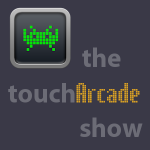 In this week's bonus edition of The TouchArcade Show, I do my best not to embarrass Eli in front of Unity CEO David Helgason. Helgason walks us through the formation of Unity, how it operates currently as a powerhouse engine company, and gives us a glimpse into the future of the engine across every platform, not just iOS. If you're into the nuts and bolts, or just want to know a little bit more about the engine that powers just about every game you play, this is definitely the show for you.
As usual, you can listen by streaming or downloading the podcast just below. If you're into subscriptions, we encourage you to grab us on iTunes and the Zune Marketplace. Feel free to shoot us a glowing review or three while you're at it, too.
iTunes Link: The TouchArcade Show
Zune Marketplace: TouchArcade.com Podcasts
RSS Feed: The TouchArcade Show
Direct Link: TouchArcadeShow-Bonus-009.mp3, 20MB
This week's interstitial music is once again from Overclocked Remix. The re-mixer we've went with this week is the awesome always "Maze Dude." Here's the two tracks:
If you want to get in touch with us, you can do so via the Internet! Our e-mail inbox is podcast@toucharcade.com, and you can catch us on the Twitters and the Facebooks. Thanks for listening and we'll see you a little later this week.