id Software has tinkered with the price of DOOM Classic [$1.99] more than ten or so times since its release in mid-2009, but it hasn't thrown in an update or tweak… until now. I'm still kinda stunned that the studio even bothered considering the age of this iteration of the shooter, but I'm also pretty jazzed about version 2.0, which adds retina support, universal support, a new menu layout, and a few "minor bug fixes." On the other hand, it's also applied the same update pass on Wolfenstein 3D: Classic Platinum [$.99]. Wolfenstein, as I'm sure many of you noticed, has been updated several times in the past, unlike DOOM.
Another bit of good news regarding these titles: both are now much cheaper. DOOM Classic's price is now down from $6.99 to just $1.99, while Wolfenstein's is now just $.99 from $1.99. That's a total of, like, six or so dollars worth of savings between the two! I think!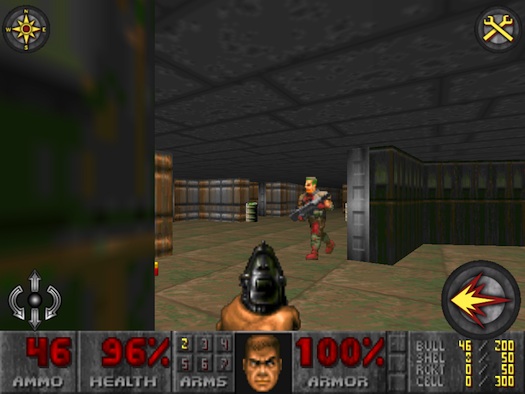 We've little indication of why either these price drops or the updates have happened. I can't even conjure a solid marketing reason — id has been crunching on RAGE as it finally spirals towards a release, but the fledgling series has nothing to do with the DOOM, so there's no immediate gain. Wait, on second thought, I guess QuakeCon is happening right now, so this might just be a fan rewards kind of deal. Either way, both games are wicked cheap!
UPDATE: Included the information about Wolfenstein and remember QuakeCon was happening. Thanks for the heads up on the former, guys.