Alawar's The Jolly Gang's Spooky Adventure [$1.99 / HD], is the type of game you're either going to love or hate after a single glance. There likely isn't going to be much of an in-between here, but thankfully there's a lite version for people to test out first, as well as tons of options for a PC demo since the game was originally released a couple years ago. The Jolly Gang's Spooky Adventure, like many of Alawar's previous offerings, is something of a mash-up between puzzle, hidden object, escape the room and adventure games with an often cringe-worthy style of humor.
You play as Moxxie, a rather androgynous girl who just got a job at a local ghost-hunting tabloid. Upon starting the game, your first task is to assemble together a series of objects you'll need before heading off to the office by touching various parts of the screen. It sounds like your typical hidden-object game, but Jolly Gang does a good job of mixing things up. You don't just need to find the objects, you need to complete tasks with them as well. You'll use the umbrella on the handbag to get it off the shelf, or you need to find the passcode to open a locked bag. As far as those sections are concerned, it's essentially a hidden object game mixed with some room escape elements.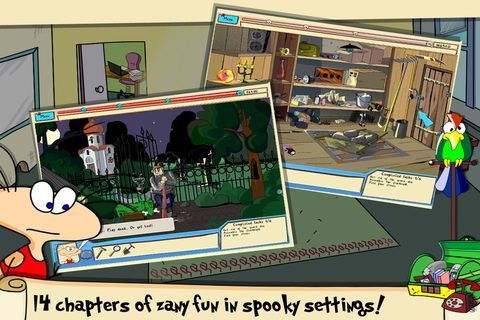 There are other components tossed into it that make it a different kind of experience, including some mini-games, most of which will be familiar to fans of these types of puzzle games. It's certainly a more casual experience, but it's also exceptionally weird in both its humor and its puzzle style. It uses a lot of the traditional adventure tropes to get its puzzles across, but it throws in enough fresh ideas to keep it interesting, even if it never gets too difficult.
The elements that are going to polarize people are the art style and the sound. Jolly Gang has that lazy, poorly drawn look about it, certainly on purpose, but intentional or not, you'll either love it or hate it. The same goes for the voice acting, which sounds like one person did everything and pushed it through a pitch-shifter and called it a day. Chances are, you'll be muting it within the first few minutes. Depending on your own leaning, the game is aesthetically the ugliest thing you've ever seen or it's a fresh take on animation.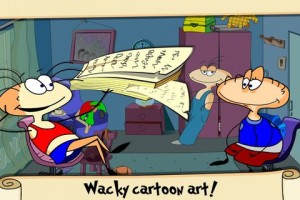 The look is a little troublesome for one reason that's hard not to deny, it looks like a kid's game. It most certainly is not and although the humor is never overtly adult or offensive, it's clearly geared toward an older crowd.
On top of being an adventure game with a plot to get through and puzzles to solve, there's also a scoring mechanic built in so you can compare on Game Center. It's a little strange, as it seems to be based on how quickly you find objects and complete a screen, which is clearly something you can bulk up over time, but as a needless add-on, it might offer enough incentive for super-fans to play again.
The Jolly Gang's Spooky Adventure isn't exactly what it looks like on first glance. There are certainly adventure game mechanics at play here, but the bulk of the game combines hidden object and escape the room tropes more than anything else. If you're fans of those two genres and you like the sloppy art style, you'll enjoy your time here, even if it is a bit short. If not, this certainly won't change your disposition.