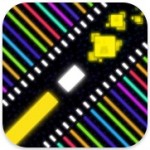 Have a Snake-shaped hole in your app collection? Longing for light cycles? Check out Hard Lines [$0.99], by Spilt Milk Studios. It's the perfect mix of point-gobbling and line-racing arcade action in one little package.
The basic gameplay is simple and familiar. You take control of Lionel, a line that can take only 90 degree turns. You've got a choice of controls, with Tappy's on screen buttons, Swipey's swipes to turn, and Turny, which divides the screen into two tapping zones (yes, the game presents its controls with those rather tongue-in-cheek names). If you crash your line into itself, another line or a wall, it's toast. Your goal, as in Snake, is to survive and earn as many points as you can in the process.
Don't write this off as just another knockoff. Hard Lines takes the formula further with six great game modes. Yes, you can play Snake mode, where your line grows ever longer as you gobble up glowy things. Or you can play Survival mode, which is a light cycle battle that pits you against a couple opponent lines. Deadline gives you three minutes to pull in the highest score possible, while Gauntlet sends an endless supply of enemy lines at you. There's also Pinata, where the lines you kill explode into piles of point-bearing glowy things, and Time Attack, which requires you to keep earning points to keep going.
What you get out of all that variety is a high-score race that doesn't get dull. Hit a plateau in one mode and you can move to the next. Unfortunately the leaderboards are currently only OpenFeint, not Game Center, but Spilt Milk Studios plans to address that in an upcoming update. They'll also be adding Retina support and tweaking the difficulty to get players right into the action. You can keep tabs on their plans in our forums.
What Hard Lines is missing in those features, it makes up for with charm and humor. The lines are chatty little things, always ready with quips to entertain you or to lament their deaths. On a long enough timeline these might get old, but so far the developer has been adding more quips to keep them fresh. The graphics and sound have a retro-stylish appeal that brings to mind the games Hard Lines owes its existence to. Oh, and make sure not to miss the vocal theme in the tutorial – it's really something to hear.
I expect that the lack of Game Center support will be a deal-breaker for many of our readers. If you can let that go, there's a great arcade gaming waiting for you in Hard Lines. I'll be waiting for you on the leaderboards if you decide to jump in.
[ UPDATE: Hard Lines has, by way of an update, gained Game Center support since the writing of this review. ]