Baseball Superstars has been a favorite around these parts for years now, with entries to the franchise released each fall. So it's surprising to see Baseball Superstars II Pro [$0.99] released a little over half a year after the series' last major outing.
Each update to the series brings new features and improvements, and this one is no different. It's a huge upgrade from the earliest games in the series, but when compared to last year's model, it's a bit less impressive. Don't get me wrong—this one is better than Baseball Superstars 2011 [$0.99 / Free] across the board. But if you've spent some time in Gamevil's series already, you'll find a shinier, prettier game, but not one that's much different from what you've already seen.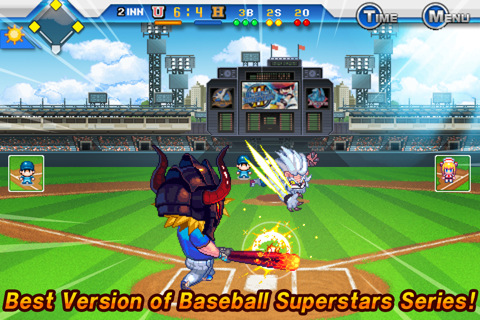 If, on the other hand, you're new to the series, this is the one to grab. The visuals have been given a major overhaul. Each sprite is more detailed, as are the environments. The other players no longer look oddly squashed, and animation upgrades have them looking a lot smoother as they run around the field. With configurable weather, light and particle effects, it's by far the best looking entry in the series.
If you've never played before, here's the (abridged) run down. Baseball Superstars II Pro is a Sports/RPG hybrid. You create baseball players and run them through My League mode, which spans a career and tells a story, or create teams and run them through Season mode. Either way, you're responsible for training your players, buying and managing items, handling stats and actually playing the game. Playing involves carefully timed and placed taps for batting, pitching and stealing bases. The game also has missions, tournaments, home run challenges and online multiplayer to keep things interesting. Once you take into account the load of unlockable teams, items, players, and Game Center achievements, you'll probably never need to leave the house again.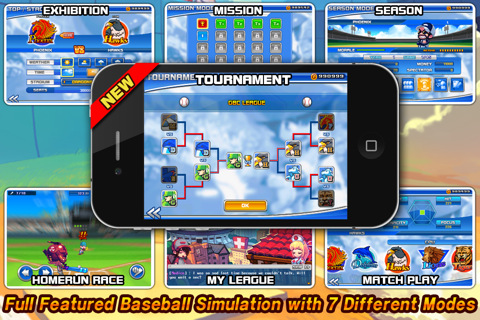 Whether or not you'll enjoy it depends less on whether you're into sports games (I'm not, and I love it) than if you're okay with the potential for IAP. There's a lot of it. Many of the available items and skills cost G Points. You can earn G Points several different ways in the game, or you can skip ahead and buy them. If you're a completionist, you're going to run into roadblocks where you'll need to either grind or pay. If you're a casual player, you can easily go without paying extra money. You're also going to need to be okay with some silliness. The translation and story are a bit dodgy. Also, you can buy ridiculous equipment in these games, and super players add a big element of chance.
Speaking of super players, they've been improved this time around. Now you can recruit them and add them to rosters more easily. Your teammates are also a little smarter. Batting hasn't changed much, but pitching is a lot nicer. Rather than tapping a single point in the hit box, you're given a zoomed-in plate to target. The pitching gauge is also much easier to use, and it's on by default now. This should give newbie pitchers a big leg up. Custom pitches add a little variety, too.
http://www.youtube.com/watch?v=euvZdEibVf4
The interface has seen a pretty major overhaul, and while some things are a bit more straightforward (especially player recruitment), the main menu is probably going to overwhelm every new player that hops in. Here's some help: Mission Mode will give you a chance to safely learn the basics, and you should play My League on Easy to start.
Since this is pretty much a shiny, cleaned up version of last year's game, whether it will catch the fancy of existing Baseball Superstars fans depends on whether 7 months is a long enough gap to leave you wanting to start fresh. With the sheer volume of content these games offer, some of you may still be working through the last iteration. For folks who haven't hopped on the bandwagon Baseball Superstars II Pro is a sure bet. It takes the best baseball RPG series on iOS and makes it even better—sounds like yet another home run to me.