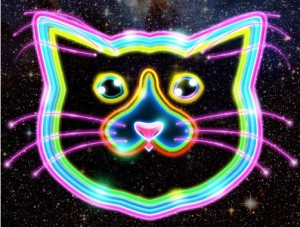 Here at TouchArcade, we are not shy about our love of cats. That's what makes the upcoming Techno Kitten Adventure so exciting – it features not just a cat, but a kitten, and that kitten is wearing a jetpack. Along with the jetpack kitten are other amazing things like rainbows, unicorns, and techno music. Indeed, Techno Kitten Adventure contains more ironically cool internet memes than you can shake a stick at.
Techno Kitten Adventure has been available as an Xbox Live Indie title since last year, and now developer Elite Gudz is bringing an improved version to the App Store. Gameplay is similar to the many iCopter games that have been released, which you can see in the following teaser trailer. Unfortunately, the man in the cat suit is not representative of in-game graphics:
So, as I mentioned, the version of Techno Kitten Adventure that is coming to iOS is an improved version of the current game. Basically what you see in the trailer isn't what you'll be playing on your device, but I just couldn't resist posting that video. Those MS Paint-style graphics might have a certain campy charm, but the screens of the updated version available on the Techno Kitten Adventure Facebook page show much more pleasing visuals.
If you look closely, you'll notice such stellar additions as dolphins wearing top hats, a pterodactyl with a bow tie, a flame shark, and a snowman in Hell. If those things don't get you excited, then I just don't know what will. This revamped version of Techno Kitten Adventure is set to hit the App Store on June 7th. If you like cats, unicorns, rainbows, or any other matter of silliness, then it's one you'll want to keep an eye out for. We'll take another look at Techno Kitten Adventure when it's released.