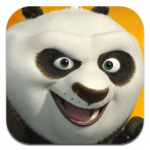 The movie 'Kung Fu Panda' introduced us to the animated characters of Po (a food-loving panda with a heroic destiny, voiced by Jack Black) and his trainer, Master Shifu (voiced by Dustin Hoffman). In 2011, the joke-cracking panda returns in 'Kung Fu Panda 2'. To tie in with the soon to be released movie sequel, THQ has released the game Kung Fu Panda 2: Be The Master [99¢].
A first glance, this game is extraordinarily easy to describe. It (currently) contains two games, each of which is described as a "scroll" which Po must complete as part of his on-going training. The first scroll, named 'Paws of Power', provides endless Fruit Ninja type gameplay whereby you swipe objects propelled onto the screen. The second scroll is named 'Feet of Fury' and involves Doodle Jump type gameplay, with tilt controls being used to maneuver between platforms in order to jump higher. Refer to this gameplay video to see the obvious similarities to these popular titles:
Both of the games are skinned with Kung Fu Panda graphics, which likely will appeal to kids and fans of the movie. Whereas Fruit Ninja swipes are directed at pineapples, watermelons and apples while avoiding bombs, Paws Of Power takes aim at bowls of noodles and training dummies modeled on Po's foes, while avoiding bee-hives. Likewise in Feet Of Fury, the power-ups include bowls of noodles, bamboo stilts and chairs with rockets attached. In the background is the "Waterfall of Agony". High scores and 42 achievements are maintained via Game Center.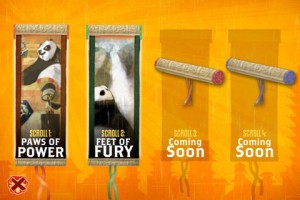 The game advertises that two additional scrolls (games) will be released in future upgrades. Any developers with popular games must be wondering if their titles will become the inspiration for scrolls 3 or 4. One TouchArcade user jokes in the thread that we'll see 'Angry Pandas' in the next update, referring – of course – to Angry Birds.
At the end of the day, I only have two minor gripes with this game. The screen orientation changes abruptly between landscape and portrait when you switch games and I felt this transition could have been implemented better. And the "Trophy Case" menu does not explain how to obtain trophies and lists "Kung Fu Training Master" without any explanation of what this means. Presumably unlocking these achievements involves the other two scrolls being accessible, but there's no way to tell for sure right now.
Kung Fu Panda 2 delivers two games which, although not as good as the originals, are well implemented casual games, which are fun to play. By the time four scrolls (games) are provided, assuming the next two are of a comparable quality and provided free, this title will be pretty good value for a dollar. If you for some reason don't already own Fruit Ninja and/or Doodle Jump and are totally stoked for the impending release of the Kung Fu Panda 2 movie, this is the game for you.