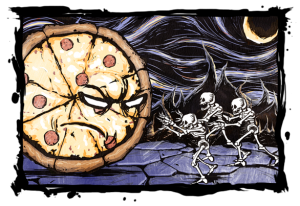 IKAROS [$.99] creators Riverman Media has an interesting new title up its sleeves. Earlier in April, the studio revealed Pizza vs. Skeletons, a game that'll pit two favorite things of mine against each other in one convenient iPod Touch and iPhone app.
I wish I could give you a good idea of what kind of game Pizza vs. Skeletons is slated to be, but even Riverman is struggling to pitch its concept or vision. "How do you hype up something that has no clear genre, a nonsense plot, and a main character that's a thirty foot tall conglomeration of cheese and tomato sauce," the post asks.
In a nutshell, Pizza vs. Skeletons will have you moving a monstrous pizza wheel through a bevy of skeletons across 100 — or so — 2D levels of bone-smashing destruction. Apparently, Riverman will be implementing level-based mechanics, so in one level the focus will be crushing, the other rolling, the other "sumo wrestling," and more. The studio plans to keep switching up how you'll re-kill the undead to avoid repetition. Also, there's a significant focus on the feeling of being a gigantic pizza — whatever that means.
I reached out to Riverman to get further clarification on how these mechanics will fit together specifically, but if I'm reading into the original posting on its blog correctly, chances are that there's no rhyme or reason for the existence of any of this stuff, which is sort of the point of the over-the-top game.
"We've had a lot of false starts and thrown it on the back-burner several times now," the post says. "For awhile it was looking like it would be totally un-fun. However, recently we've finally started to make some real headway."
Good! I can't wait to show some skeletons what's up… with a gigantic pizza. In the meantime, if you're hungry for more details on this game, stop by the thread in our upcoming games forum.