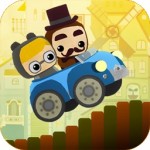 Back in late March, we caught wind of the trailer for developer Simogo's follow-up title to Kosmo Spin [99¢] called Bumpy Road. Similar to an endless running game, Bumpy Road has you controlling a car carrying a happy married couple as they leap onto platforms and over hazards while collecting various trinkets. While that all sounds pretty standard to many other games available, Bumpy Road uses a unique mechanic where you actually manipulate the elevation of the ground by touching the screen in order to move the car to and fro and bop it into the air.
It's a clever new gameplay mechanic and one that I found works extremely well in our hands-on preview of Bumpy Road. Yesterday, Simogo announced that Bumpy Road is set to debut on the App Store next week, on May 19th.
Simogo has also stated that Bumpy Road has come a long way since the build that was provided for our preview, further refining the gameplay and adding new features. Since our build was pretty solid as is, this can only mean good things for the final release version. The ground manipulation mechanic is truly brilliant, and allows anybody to be able to pick up the game and begin playing, but will reward those who practice and improve their skill. With such a solid foundation in place, if Bumpy Road can come through with enough compelling content then I'm nearly certain it will be a hit.
Bumpy Road will launch as a universal app with Retina Display and Game Center support. Players in our forums have been excited for this game since it was announced, and we'll have a full review of Bumpy Road when it launches next week.