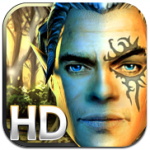 Crescent Moon's epic role-playing game Aralon: Sword and Shadow HD [$4.99] has just received a nice update that adds the ability to save your game progress into the cloud and transfer it between devices. In addition, the game is currently on sale for $4.99 for a limited time.
It's great that Aralon is a universal game, as it's nice to be able to play it on both my iPhone and iPad if I choose. The problem is that it's such an extensive experience, containing dozens of hours of gameplay, that it's a drag to not be able to play off of the same save file no matter which device I happen to be playing on.
This is no longer an issue with the new cloud saving. There is now an option on the main menu for Cloud Storage, and you'll need to register an email address here to get sent a special PIN number that allows you to access the cloud. Once you have your PIN, you can choose to upload any one of your save game files from one device, and using your email address and PIN you can then download them to a different device and continue on with your progress.
It's a pretty painless process, and it transferred my iPhone save game over to my iPad without a hitch. With the ever-increasing popularity of iOS gaming, and with new games coming out that are bigger and more complex than ever, it's going to be essential that developers begin adding this sort of cross-device save functionality into their games. I'm certainly glad to see it hit Aralon, that's for sure.
Be sure to check out our extensive review of Aralon: Sword and Shadow HD, or drop by the massive forum discussion for more information on the game. If you enjoy Western-style RPGs, or would just enjoy exploring a gorgeous expansive world, then don't hesitate to check out Aralon while it's on sale for 50% off.