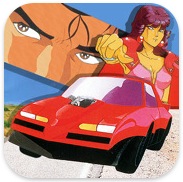 Revolutionary Concepts is running a sale on its iOS port of the classic '80s laserdisc title Road Blaster. Road Blaster for iPhone [App Store], normally $1.99, and Road Blaster HD for iPad [App Store], normally $3.99, are both available for $0.99 for one week only.
Road Blaster follows a campy story of revenge (not totally unlike many action movies from the '80s) where you are out to get justice against an evil biker gang who murdered your wife. You'll hop into your modified sports car and go after these heartless thugs across 9 different levels, with the option of three difficulty settings. Operate your vehicle using a virtual steering wheel or the brand new tilt controls.
The iOS version features remastered FMV sequences that are optimized for Retina displays (on iPhone), a choice of two different redrawn in-game dashboard consoles, a new soundtrack and plenty of new sound effects, and numerous optimizations over the original.
Today also marks the return of the studio's Karate Champ FREE [iPhone, iPad] to the App Store, which gives a nice taste of the full iOS conversion of the classic '80s arcade fighter.