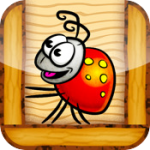 This past September, FDG Entertainment released Beyond Ynth [Free/HD], a puzzle platforming game starring an adorable bug named Kribl. In Beyond Ynth, the goal is to get Kribl to the end of each level by way of various types of boxes which he could enter and move from within. Rolling boxes from the inside allowed Kribl to negotiate the terrain in each level, but there was a heavy puzzle element too, as you had to think ahead as to how each box would match up in order to make your way to each new one.
Beyond Ynth has a wonderful art style and tons of cleverly designed levels, and while we really enjoyed it in our review we did note that it could be frustrating since dying caused you to have to replay a level over from the beginning. FDG went ahead and fixed that though by offering a fantastic rewind feature in an update a couple of months after release. With the rewind feature in place, the frustration levels were minimized and I was able to enjoy the great content in the game.
Now you can grab all that great content in Beyond Ynth for free for the next few days. Both the iPhone/iPod touch version and the iPad native version prices have been slashed to free for the next 72 hours. While I have pretty much nothing but praise for Beyond Ynth, don't just take my word for it, as the game recently won the IMGA awards for Excellence in Gameplay and for the overall Game of the Year. For zero dollars, it really is recommended that you download Beyond Ynth for your iOS device of choice during this free promotion.