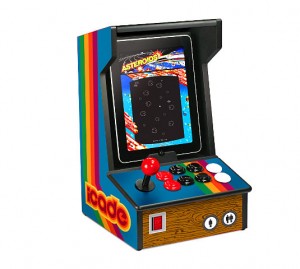 Remember the iCade? It was originally unveiled at CES earlier this year and promised to offer a classic arcade machine experience for your iPad. What made the whole thing even more interesting was that the iCade's creators, Ion, apparently had Atari onboard for the project as well. With the launch of Atari's Greatest Hits last week, it seems Atari has held up their end of the bargain, now all Ion needs to do is release the iCade.
It would appear all things are proceeding as planned for the launch of the iCade as 9to5Mac spotted the device sailing through the FCC approval process. Swing on by the FCC site to see all kinds of photos, and the iCade's manual which actually instructs owners of the device to go download Atari's Greatest Hits [Free] as part of the setup process.
If you want the $99 retro controller, there's two ways to get one- First off, you can head over to ThinkGeek where you can sign up to be notified for the device to be in stock. Alternatively, GameStop is offering pre-orders which seems like a better route than signing up for a mailing list if you want to get one when the iCade launches on 5/31.