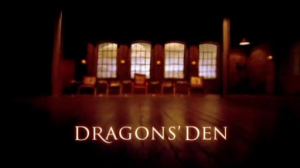 Alright, so full disclosure here- Dragon's Den is a guilty pleasure of mine. If you haven't heard of it before (and understandably so), here's the format of the show in a nutshell: Aspiring entrepreneurs pitch their inventions, business ideas, and money-making schemes to a panel of venture capitalists (or "Dragons" as they're referred to). These pitches can be centralized around everything from an already successful business looking to take things to the next level, to barely functional prototypes, to simple patented ideas. The one thing these people share in common is they lack the funding and direction to (potentially) make their business wildly profitable.
What makes the show entertaining is the interaction between these entrepreneurs and the dragons sitting across from them and the negotiations they come to regarding what percentage of their business they're going to give up in exchange for the investment. Of course it's often even more amusing when entrepreneurs fail entirely and are ripped apart by the dragons.
The thing is, I have no clue how they're going to turn this show into a fun video game. On any level. From the look of the above teaser trailer, it seems as if you play the role of the dragons and decide what to invest in. If you haven't seen the show, watch this video and see if you can discern any potential gameplay elements from there.
Either way, I'm totally stoked for this game. I just hope I can play as Peter Jones or Theo Paphitis, because I'm going to make it rain.