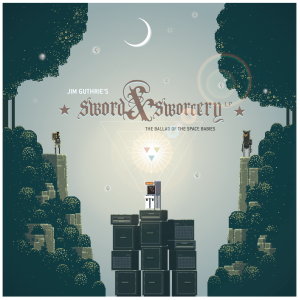 We've spent a crazy amount of time both playing and reviewing Superbrothers: Sword & Sworcery EP [$4.99] and as members of our forum have mentioned, Jim Guthrie's music is a major component to the game. If you've been looking to get that same music to accompany you to do other things besides play Sword & Sworcery, the soundtrack went up for sale in a number of different formats last night. Your first option is to swing by Jim Guthrie's Bandcamp where you'll be able to download the digital album for $7.99 in basically any format imaginable. For $30, they're offering a 180g 12" vinyl copy of the soundtrack complete with a limited edition art prints.
Alternatively, for $8.99 you can head over to iTunes and grab the digital album there, although I'm not sure why you'd pay more when Bandcamp offers so much more flexibility… But, anyway, they've also released this incredibly odd video to coincide with the launch of the soundtrack featuring its creator Jim Guthrie:
I've been listening to the soundtrack most of the morning, and it goes with browsing the TouchArcade forums very nicely. In gaming-related news, the iPhone version of Sword & Sworcery is still on track for release later this month. According to Craig D. Adams, the artistic mastermind behind the game, they'll get more specific about release dates in the next few weeks.