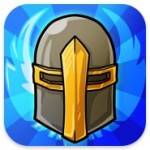 Right smack in the middle of Macworld this past January, Liv Games released their first iOS title called Legendary Wars [99¢/Lite]. It's a castle defense game similar to a plethora of other titles available in the App Store, but Legendary Wars made some smart design decisions that set itself apart from the rest. There are 3 different lanes to manage, which adds a layer of depth to the landscape as you send troops towards the enemy castle or deal with oncoming attacks. There are also a staggering number of different game types that afford a ton of variety to the gameplay. A full armory and upgrade system motivates you to keep on playing just one more game as you power up your offensive squad.
We were really surprised at just how much we enjoyed Legendary Wars in our review, and really the biggest negative we had was that the lovely artwork in the game didn't support Retina Display resolution, and looked pretty fuzzy on those devices. Today Liv Games has rectified this by releasing an update that includes Retina Display graphics and a number of other goodies. Check out these comparison shots below to see just how big a difference the higher resolution art work makes in Legendary Wars (normal resolution on left, Retina resolution on right. Click to enlarge):
In addition to the Retina Display support, this update to Legendary Wars also includes Game Center integration with 50 achievements and 5 leaderboards for Endless modes. There's also a brand new armory which unlocks upon completion of the Campaign, and several of the Hard and Legendary difficulty missions have been altered to be more balanced. There's also a host of other bug fixes and the game has been optimized to load faster and run more smoothly across all devices.
This update comes after last month's update which included a more casual-friendly control option and various other gameplay tweaks and balances. There is also a brand new lite version of Legendary Wars to try out which includes 7 exclusive levels not included in the regular version, and the full game is currently on sale for 99¢. An iPad native version is in the works too, and Liv Games is hoping to roll that out in mid-April barring any complications.
Players have been loving the game in the very active forum thread, and if you own Legendary Wars grab this latest update to check out the new high resolution graphics and Game Center, and if you haven't picked up the title already check out the lite version for a taste of the gameplay.