It's possible that Hamlet [$2.99 / Lite / HD] for iOS, is indeed "the last game without MMORPG features, shaders, and product placement" as its title suggests, so I wanted to at least give you a heads up about it. Publisher Alaware Entertainment has finished its porting work on the bizarre PC-based puzzle game and you can grab it now on the App Store.
The coolest thing about Hamlet is its take on "Hamlet." Sure, it's been a couple of years since I've sat through those college level English Lit classes, but I'm pretty sure "Hamlet" had nothing to do with time travel. Or an alien with a light bulb on his head. Or guitars. Or crabs. Or tentacles.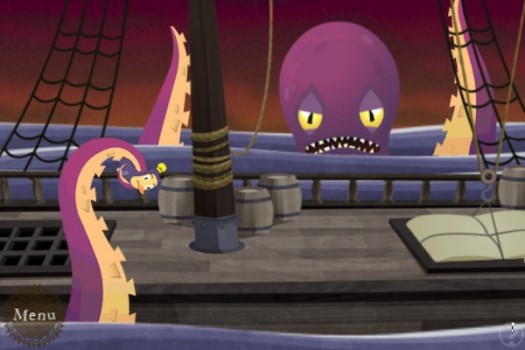 As far as the game part goes, the execution is all over the place. Some puzzles are unguided pixel-by-pixel clickathons while others are straight-up bad. The "Corridor" puzzle in particular, which is your standard puzzle game maze construct, is so wildly obtuse that I've been struggling with it while using a guide. But if this kick-you-in-the-junk Flash approach (think Samorost) to puzzle design is your jam, I think Hamlet has a lot to offer you. And I do think it does have a few great things to share. The art style in particular is pleasing and some of the puzzles are indeed the kind of satisfying brain twisters that you want from a solid puzzle game.
The original designer of the game is connecting with our TA forum members and I'd imagine that thread is about to explode as more and more people learn about the game. A Lite version for the iPad and iPhone are indeed out there, so I definitely suggest giving them a shot before you buy. Also, a Retina screen update is apparently in the works, so look forward to that.