There have been a number of fun and free advergames on the App Store. Firemint did a great job with Real Racing GTI [Free], which was little more than a cleverly disguised lite version of Real Racing [$4.99] with some very heavy Volkswagon branding. VW has also worked with Fish Labs to bring us Volkswagen Think Blue. Challenge [Free], an odd "racing" game of sorts where you're put to the task of driving fuel efficiently instead of as fast as possible.
Today's interesting advergame is CP3K [Free] courtesy of Nike, Chris Paul, and his new set of Jordan shoes which, like every year, look even sillier than last year's iteration. How do you mix shoes and a basketball player from the New Orleans Hornets in to a video game? Well, it has something to do with some kind of futuristic training simulator where Chris Paul himself (apparently equipped with his shoes) runs, jumps, and of course, executes wicked backboard-shattering dunks. This all is accomplished by tapping when you're running over pads that boost your speed, allow you to jump higher, or dunk. Otherwise, tapping just makes you jump.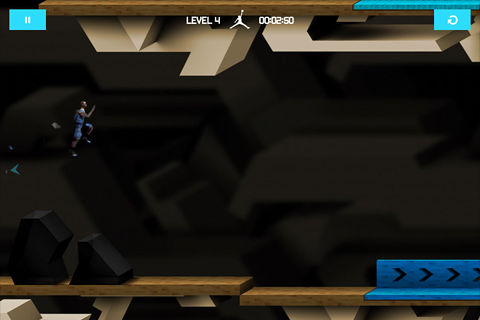 Like most of these advergames, there's limited depth in the gameplay as the goal of CP3K is to sell you shoes. Still, you can replay the levels to beat your ghost, and there's a 3 star rating system depending on how quickly you're able to run and dunk your way through the 9 included levels. It's surprisingly fun for what it is, and the game is even universal. Virtual Chris Paul is animated quite well, and the soundtrack is this cool post-8-bit electronica with an R&B backbeat that's pretty catchy. It's under 25MB too, so iPhone owners can download it via 3G without issue.