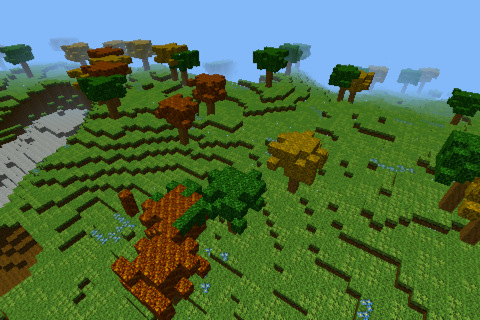 Indie sandbox building game Minecraft has become something of a phenomenon since the Mac / Windows / Linux release of Minecraft Alpha back in June. And, for a rather brief moment, iOS gamers had the chance to get in on the Minecraft experience as well, thanks to Trevor Wilkin's Minecrafted, basically an iPhone Minecraft client (which could connect to Minecraft servers) that was pulled shortly after landing in the App Store.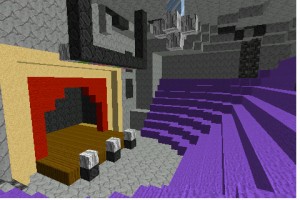 Those bereft Minecraft fans out there who lament the iOS Minecraft experience having been but a brief flirtation may be pleased to see Kingly Games' new release, Eden – World Builder [App Store]. The game, according to the developer, was inspired by various members of the block building genre, including Minecraft, Infiniminer, and Blockland. And it's apparent.
The game features "a vast pristine world of infinite possibility," dozens of block types, integrated community tools for sharing and, perhaps most important of all, fire and explosives. To the eye, it's pretty much Minecraft, with gameplay more akin to the earlier Classic version than the current favorite and more complex, Alpha release.
Movement through the game world is controlled via an onscreen D-pad with swipe-based view controls. Along the right edge of the screen are buttons for digging, selecting building blocks, lighting fires, jumping, and the like. Happily, the onscreen action is very smooth and fluid, moreso than the Java-based Minecraft on some Mac and PC setups. Eden is optimized for the iPhone 3GS / 3G iPod touch and newer, with iOS 3.2 or better required.
And while there's much similarity to Mojang's indie smash, Eden – World Builder is indeed it's own game and does not connect in any way to the world of Minecraft. I've enjoyed the brief time I've spent with the title so far and expect fans of the block-based world building genre would do likewise.
UPDATE:  Developer Ari Ronen contacted us early this morning to give us a heads-up on a price drop for Eden – World Builder. "Just a heads up — I've decided to lower the price for Eden to 99c so that everyone can check it out."