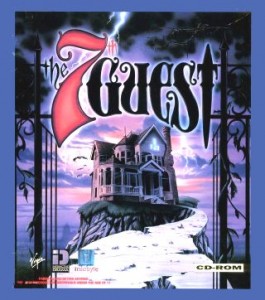 The 7th Guest for iPhone and iPad won't launch with all the puzzles included in the original CD-ROM version of the title, Trilobyte Games told us over the weekend. A total of three puzzles have been cut out of the original 22, due to various technical challenges that Trilobyte can't tackle before the game's December release.
The cut puzzles, which have been stripped from differing points in the game, won't disrupt your ability to progress in The 7th Guest, nor will you be missing any of the puzzle title's memorable FMV sequences — the scenes that follow or proceed these missing puzzles will remain in their proper places.
To be specific, the three cut puzzles are the "Pentagon / Knife Puzzle," the "Piano Puzzle," and the "Microscope Puzzle." The latter two, according to Trilobyte, are getting cut because they needed to be rebuilt from the ground up, and that's not something that can be done easily. The reason the former is receiving the axe is simply because it doesn't play nice with small screens like the ones on iDevices.
Here's what Trilobyte told us about the puzzles:
The three puzzles we are unable to include in this release are the Pentagon / Knife Puzzle, the Piano Puzzle, and the Microscope Puzzle. The knife puzzle has been taken out because it is too small to be played effectively on the iPhone screen. We are currently testing a mod of that puzzle for the iPad version, and also experimenting with other ways to make it playable on a small screen.

The other two puzzles with outstanding technical issues are the microscope and the piano puzzles. With a hint of sadness and note of admiration, the original Microscope and Piano puzzles are not going to be in this December / holiday release. Our engineers have carefully studied the code and determined that we would have to rebuild these puzzles from scratch to put them back in the game. Even so, we're not ruling-out the reappearance of the Microscope puzzle in a future version, or as a standalone app. It will likely go down as one of the most legendary AI puzzles ever created for a video game.
Just as a quick reminder if your humours are beginning to rattle out of place or you feel your choler rising: The 7th Guest was one of the first CD-ROM games, created back in 1993 for computers. If you thought that everything in The 7th Guest would translate to modern touch screen platforms, well, let's just say your expectations were unrealistic.
However, there's at least a chance we could see these puzzles in future updates to the game or even in separate Apps. As noted in the above, Trilobyte Games isn't ruling anything out post-release and is even looking into dropping the Knife puzzle into the iPad version of the game. Keep the faith!