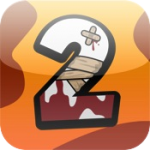 This has been quite a week for iPhone game releases and news, and somehow in the process Adult Swim's new Amateur Surgeon 2 [99¢] got lost in the shuffle of typewriters, triplicate carbon copies, punch cards, and tape reels that make up the TouchArcade mobile command center. Not anymore, as after spending some quality time with the game this afternoon, the latest installment of the Amateur Surgeon series is an effortless recommendation to anyone with a dark sense of humor and a taste for gore.
Much like the original Amateur Surgeon [$2.99 / Lite / HD], the sequel follows the adventures of Alan Probe and his series of gruesome surgeries that involve advanced surgical instruments such as a pizza cutter, a car battery, a dust buster, and even a zippo lighter. Similar to the Trauma Center series for the Nintendo Wii and DS, you slowly learn to use all of these tools to successfully complete medical procedures on a number of different patients. We liked the first one a lot, and really my only complaint was that sometimes things were a little too difficult due to the inherent lack of precision from my fat fingers on the iPhone screen. A new pinch to zoom feature completely alleviates this, allowing you to make precise incisions with your rusty pizza cutter. (Or, as precise as a pizza cutter could be, I suppose.)
All in all, Amateur Surgeon 2 is a fantastic sequel. They took everything that was good about the original, tweaked the things that weren't, made the game perform a little better, and loaded it with new content. If you're on the fence, the lite version of the first Amateur Surgeon is a good place to start, as the gameplay is similar enough to give you a fantastic idea of what you're getting involved with in the sequel.