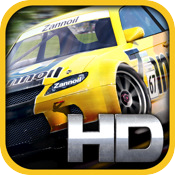 Flight Control HD [$4.99] won't be the only Firemint joint to receive a multiplayer update when iOS 4.2 hits the iPad. Real Racing HD [$9.99] will get its own as well, the studio has revealed this morning.
Specifically, this update will usher in four-person competitive races via Game Center across an unspecified number of levels. Currently, as Firemint reminds us in the press release, the game supports up to six-dude local multiplayer via Wi-Fi or head-to-head play via Bluetooth.
Game Center will give Real Racing HD online some structure — once the update hits, you'll be able to get into games via random matchmaking or join up with friends who've bothered to sign up for Game Center and dig Real Racing HD.
iOS 4.2 is slated to hit whenever Apple feels like releasing it later this month, potentially as early as Friday if recent rumors are true. There's been some new talk since our post yesterday indicating that network AirPrint has been removed from the update, but nothing has been confirmed.