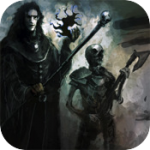 Battle for Wesnoth [99¢ / HD] is an open source turn-based strategy game originally released on the PC in 2003. Since then, both the iOS and PC versions of the game have seen substantial improvements as well as seemingly a constant supply of new content created by a massive community of Wesnoth fans that build characters, maps, individual battles, and all-out campaigns.
The PC version is available as a free download and can run on both Windows and Mac OSX. The iPhone version of the game was a little rough around the edges when we first reviewed it, it has improved substantially with each update. Also, each update has brought additional content to the game and currently there are 15 full campaigns which include nearly 200 scenarios. If turn based strategy games are your thing, Wesnoth will keep you busy for a long, long time.
If you're lucky enough to own an iPad, I'd totally spring for the HD version of the game. Battle for Wesnoth makes great use of the bigger screen, and while playing it on the iPhone is still fun, the overall experience is much better on the iPad. For more information on Wesnoth, strategy discussion, and other tips, check out the absolutely massive thread in our forums.