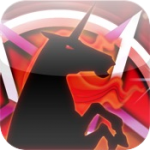 Adult Swim's Robot Unicorn Attack [$2.99 / HD] has been somewhat of a cult classic, both on the iPhone and iPad as well as online with their free flash version of the game. The game follows a similar gameplay model to so many games that involve running to the right for as long as possible, with two distinct differences. First off, you play as a rainbow colored robotic unicorn, and secondly the entire game is set to Erasure's Always. Following the success of the first, today Adult Swim released Robot Unicorn Attack Heavy Metal Edition [99¢], a heavy metal reskin of the original.
Erasure is a thing of the past, in his place is Blind Guardian singing their epic metal ballad Battlefield. In addition, all the fanciful rainbows and the fantasy motif has been replaced with fire, brimstone, and pentagrams. Also, Instead of three dreams, you get three nightmares to score as high as you can before submitting your score online via OpenFeint.
It would have been cool if the Heavy Metal Edition would have been released as DLC for the original Robot Unicorn Attack so I didn't need to keep two seperate games on my phone to enjoy both modes, but at the launch price of 99¢, I can't complain too much. If you love Robot Unicorn Attack (and who doesn't?), you need the Heavy Metal Edition. It will bring the same stupid smile to your face as busting through purple stars while you bop your head to Always. Much like people in our forums, I hope Adult Swim keeps expanding the Robot Unicorn's adventures to other genres.