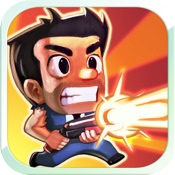 Developer Halfbrick Studios has just released another significant update to their endless running high score game Monster Dash [99¢]. The Australian dev has noted that they are shooting for a fairly frequent update schedule to Monster Dash, in similar vein to the treatment that their other top-selling game Fruit Ninja [99¢/HD] has received. The first Monster Dash update was released at the end of August, and included a motorcycle powerup that protagonist Barry Steakfries could collect to plow over the countless monster enemies. In addition to the motorcycle, a number of gameplay tweaks and a couple new achievements were a part of the last update that we posted about when released.
This newest update takes things even further than the previous one did. An entirely new level, Yeti Heights, is now a part of the regular rotation. This snow themed level features abominable snowmen climbing up the walls in the foreground to reach the path of Barry while a twisted rendition of Jingle Bells plays in the background. Along with this new level comes a new rocket launcher weapon that can lock on to enemies and does splash damage to anything around the point of impact. The rocket launcher can be a bit tough to use early on in the game, as you aren't moving fast enough to get out of the way of the rocket's explosion. But further on when the game is moving at a fast clip, it can prove an invaluable weapon.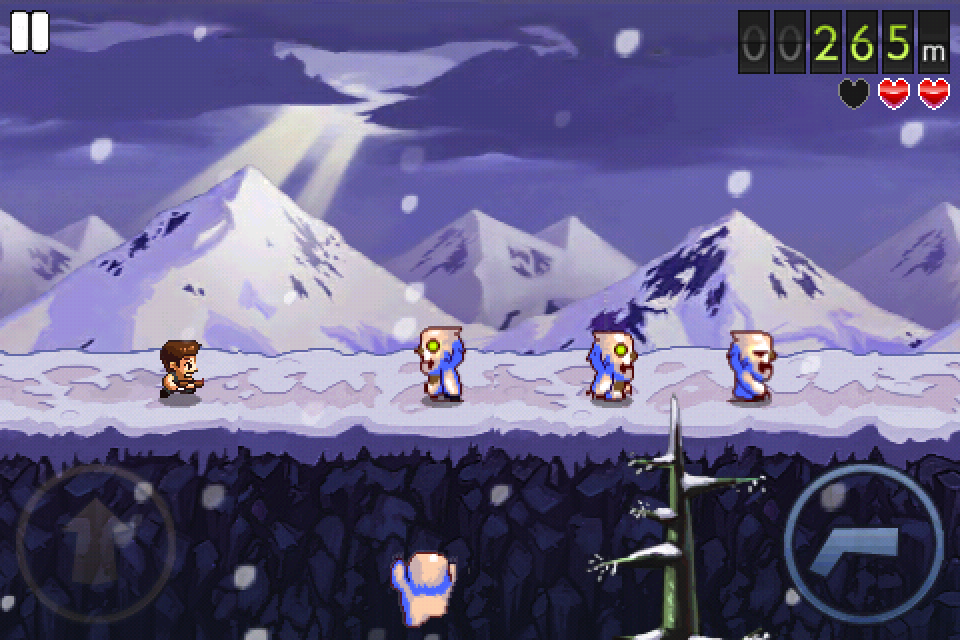 The final big addition to Monster Dash in this update is the inclusion of Apple's Game Center social network for leaderboard and achievement tracking. As with other games that had previously used OpenFeint for these purposes, the Game Center works in harmony with OpenFeint and you're given the option of which service will be the dominant one when initially starting the game. All of your previous scores and achievements will automatically transfer over to Game Center and you can switch between either service at any time from the About screen at the title.
As a small word of caution, since Game Center is still such a new service it can act a little wonky sometimes in certain games. When I first fired up the new update I had trouble logging in to Game Center and getting it to recognize Monster Dash as a Game Center compatible game. Eventually it did work after multiple tries, and while the achievement and high score transfer worked just fine it seems that my friends and recent games list in Game Center have been reset for some reason. A couple players in our forums have experienced problems as well, though it seems most people have been able to play the updated version without a hitch.
I wouldn't let these minor issues deter you from downloading the new update though, as the benefits that it adds outweigh any fussing that may need to be done to get Game Center to work. If you have yet to pick up Monster Dash, make sure to check out our original review as it's definitely one of the best endless running style games in the App Store and we can't wait to see what's in store for future updates.