Today Apple held its media event at the Yerba Buena Center for the Arts in San Francisco and unveiled its work in significantly evolving a number of its mobile and media products. I had a chance to see it all first hand and spend some hands-on time with the fruits of the company's recent labor.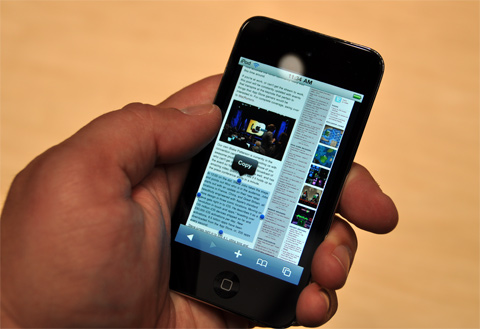 The announcement that is likely of the most interest to our readers is the arrival of the new iPod touch, thinner than ever and featuring the same razor-sharp Retina display used in the iPhone 4. (And, holding the new device in my hand, I can confirm that the screen is every bit as sharp as that of the iPhone 4.) The upgraded device is, indeed, basically "an iPhone 4 — without the phone," with a few exceptions. It utilizes the same A4 processor used in the iPhone 4 and the iPad, and features integrated gyroscopes for added in-game control precision. It has front- and back-facing cameras, as well, allowing FaceTime video chats. But the rear-facing camera offers a relatively low 960×720 pixel resolution, as compared to 2592×1936 pixels on the iPhone 4. That means it produces photos that are only 14% the size of those taken with big brother iPhone 4.
But, we're gamers here! And in that capacity, the new iPod touch is a golden mobile gaming device. During today's event, Steve Jobs indicated that the iPod touch is presently the #1 selling mobile game device, outselling Sony and Nintendo's devices, combined. He revealed that 1.5 billion entertainment and game app downloads have passed out of the App Store. With the dramatic enhancements on most every front that the new iPod touch puts in the hands of gamers, we don't expect the touch to give up the crown anytime soon.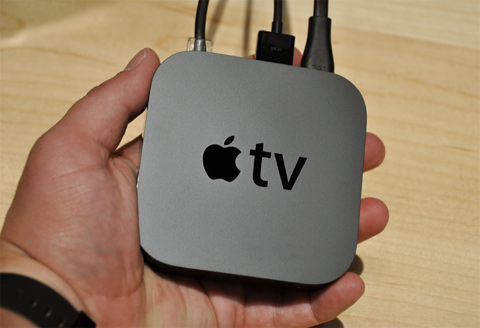 Another big announcement that Steve had in store is the reinvented Apple TV. No longer a scolding-hot slab of metal and plastic with the footprint of a Mac mini, the new Apple TV is a quarter the size of its predecessor, shrouded in black plastic, and cool to the touch.
This time around, Apple dispensed with local media storage and has positioned the new unit as a video streaming device, built on a video rental model. First-run HD movies can be rented at $4.99 per, with HD TV shows available at $.99 an episode — all HD. Netflix streaming is integrated, as well. And all of the local media sharing capabilities of the original device (tying to computers in your home for media display on TV) are preserved, with the notable addition of media streaming from an iPad, iPhone, or iPod touch. And all that, which I can confirm fits comfortably in the palm of your hand, can be had for just $99.
The new Apple TV should be of particular interest to our readers for another reason — it's based on Apple's A4 processor. Intel is not inside, this time around. Given that, it's clear that the new device is based on some form of OS X for the ARM processor. Apple isn't calling it iOS but, if it's not iOS proper, it's something extremely close. But, likely, it actually is iOS under the hood. Daring Fireball's John Gruber recently lent strong confirmation of that, as well.
And if, indeed, the new Apple TV is an iOS device, is there an App Store in its future? Let's hope so…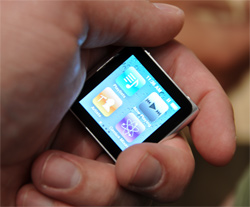 Apple also showed a new iPod shuffle which, happily, brings back the buttons of the previous versions and also demonstrated the new iPod nano. The nano is about the size of the shuffle, but features a multitouch display and a user interface styled after iOS (though it's not iOS-based). It's a pretty amazing device to play with, extremely light, small, and functional. It's not improvements all around with this one, though; the new nano lacks video recording as well as playback capabilities. It seems Apple's decided that's functionality to be found only in the iPhone and iPod touch.
On the software front, Apple has released iTunes 10 (available now), which offers several interface improvements as well as Ping, a new social network of sorts that allows iTunes users to follow one another and share news of what they're listening to online. Facebook integration is in place as well. iOS 4.1 will be released next week and will include a number of new features including the launch of Game Center — Apple's leaderboard network. Other improvements include bug fixes, and performance enhancements for 3G owners. iOS 4.2 was also previewed which will finally bring OS 4 to the iPad and is due in November.
It's clear from today's event that Apple has been keeping a laser focus on the areas that have become its clear domain: media and mobile.