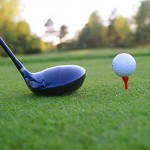 The curious thing about the App Store is that while some areas are completely overloaded (I'm looking at you, puzzle section.) others are surprisingly barren. Aside from Tiger Woods PGA Tour [$4.99], Let's Golf [$4.99 / Free / HD] its sequel Let's Golf 2 [$4.99 / HD] and various mini golf games like Mini Golf Wacky Worlds [Free] or Tiki Golf 3D [99¢] there isn't a whole lot of really great golf games.
We don't know much about Real Golf 2011 yet, but according to Gameloft it will feature golfers such as Sergio Garcia, Natalie Gulbis and Anthony Kim along with "prestigious courses" from around the world. The following trailer was released today which shows a surprising amount of gameplay video compared to Gameloft's previous trailers:
Real Golf 2011 is scheduled for release in September, and as someone who enjoyed both Let's Golf and Let's Golf 2 quite a bit, I'm excited to give it a try.