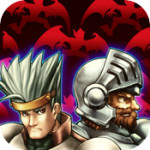 Last year, Capcom released an entry from its classic franchise Ghosts 'n Goblins to the iPhone, titled Ghosts 'n Goblins Gold Knights, which we reviewed on release. If you were a fan of the original series a couple of things really stuck out about the game. First and foremost was the change from 2D sprites and pixel art to 3D character models and backgrounds. It looked blocky and lacked detail, and just didn't have that charming, colorful look of the originals. Still, I could look past the graphical change as long as the game still played the same. The problem was… it didn't. Gameplay was sluggish, and the poor virtual controls made playing through the game an exercise in frustration. To top it all off, for one of the most notoriously difficult game series of all time, Ghosts 'n Goblins Gold Knights was a total cakewalk.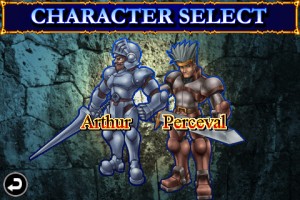 Now, nine months after the first release, Arthur is back in Ghosts 'n Goblins Gold Knights II. Did Capcom learn from their mistakes and improve upon the fairly disappointing first game? Well, sort of. Visually, everything is practically identical to the first game, and running side by side they are almost indistinguishable. Game mechanics are also similar in regards to health, powerups, level progression, and so forth. In addition to Arthur, you do get a new character to play as in place of Lancelot from the first game. Perceval is also a sword wielding hero but plays much differently than Lancelot in that he cannot shoot at characters and has a much bigger focus on magical attacks. Also, he can dash attack through certain walls, which can affect what route you take through the game and is a cool addition.
Where Ghosts 'n Goblins Gold Knights II really improves over its predecessor is in performance and controls. The game now runs a great deal faster, and feels much closer to the originals when jumping from platforms and fighting with enemies. Best of all is the addition of an analog stick for movement rather than a finicky d-pad. Moving your character is much, much easier now, and you can even place the virtual controls wherever you want on the screen in the options. These changes improve the game drastically over the first, and I'm actually having a lot of fun playing through it this time around.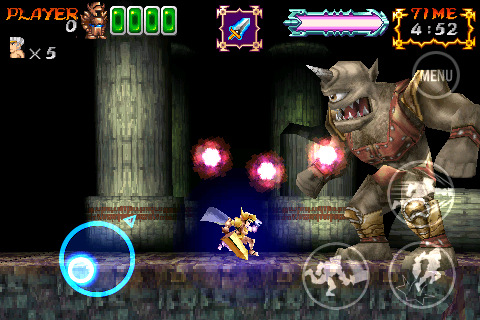 Game length appears to be about the same as the first, based on the scrolling map view you get before starting a level. The difficulty is still on the easy side, and hopefully this gets improved with an update like the first game received that added a Hard mode. There's also the same type of cheats that can be purchased for 99¢ each as IAP that the first game had, if you find the game isn't easy enough for you to begin with. It's still not the prettiest game around, but it's not the ugliest either, and overall Ghosts 'n Goblins Gold Knights II is a huge improvement over the first thanks to the overhauled performance and controls.