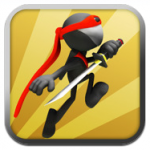 Backflip Studios is a true indie success story that we've been following for quite a while now. They've had smash hits on the paid charts with Ragdoll Blaster [$1.99 / Free] and its sequel Ragdoll Blaster 2 [$2.99 / Free] as well as the free charts with both Paper Toss [99¢] and Strike Knight [99¢]. Recently, they've teamed up with fellow indie developers Team Phobic to release Tunnel Shoot [99¢], a fun little tunnel shooter that both is universal and supports the Retina Display of the iPhone 4.
NinJump, Backflip's latest fun and free game was released mere moments ago. The game plays a lot like Ninjatown: Trees of Doom [$1.99] in that you're scaling either side of the screens as a ninja like character. Tapping sends your ninja jumping from one side of the screen to the other, swinging his sword around attacking anything in his path. If you attack three of the same things in a row, you get powered up and soar even higher.
Like Backflip's other games, there's really not a whole lot of depth to NinJump. You climb as high as you can, submit your scores via OpenFeint powered leaderboards, and try again. The lack of depth doesn't make the game any less fun though, as I've found myself randomly firing it up to play since we got our first preview of the game. If you're a sucker for super-simple pick up and play high scoring games, you really need to give NinJump a try — and, it's free.