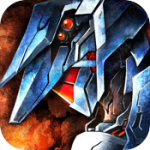 There are a lot of options for turn-based and real-time strategy games on the App Store, and plenty of quality role-playing games too. But if you're looking for a combination of the two, your choices are sorely limited (unless you want to count the Sega rerelease of Genesis classic Shining Force [$2.99] that just came out). That changed yesterday however with the release of The War of Eustrath [$2.99] for iPhone. iPad owners have been enjoying this title for almost two months now, since The War of Eustrath HD [$7.99] has been available since early June. Now that the iPhone version has arrived, owners of both devices can enjoy tactical turn-based battles wrapped in an intriguing anime storyline.
Since I missed the iPad version of The War of Eustrath the first time around, I was really excited to engage in some tactical battles with the iPhone version. What I wasn't expecting is to actually be engrossed in the storyline that accompanies the action. It certainly has some cliché elements, but the anime style character portraits and feelings of emotion they convey do a great job of keeping you interested in what's going on. The only major issue in this department is the many grammatical errors that plague the written text, but it's never to the point that you can't follow along or misunderstand what is trying to be said.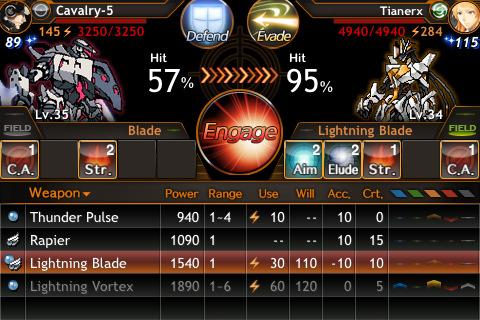 Besides the surprisingly good story, there are some excellent tactical battles in The War of Eustrath. Your team of characters in the game control giant mechs called GEARs which can be upgraded and leveled up as you play. Each GEAR can have elemental tendencies such as lighting or air that give them additional special abilities. Battles take place on an overhead grid in turn-based fashion, and engaging with enemies shows the battle play out in a zoomed in side view of the GEARs. The different terrains you travel to during the game are varied and play a big part in choosing your strategy for each battle. It's all pretty standard stuff for games like this, but is well done and enjoyable.
What's really nice about The War of Eustrath is that the UI has been built lovingly around the touch interface. Accessing menus and moving your team around the maps works really well, and the extra screen real estate of the iPad provides an even less cluttered experience (although at a substantially higher price). Things feel a little cramped on the iPhone, but not overwhelmingly so. There's also a ton of content in the game with over 50 campaign missions, some of which can play out with multiple results, altering how the story flows. Players in our forums are loving the game, as iPad owners have for the last couple months in that versions game thread. If you like tactical turn-based battling, giant upgradeable robots, and compelling storytelling, take a look at The War of Eustrath for either iPhone or iPad.